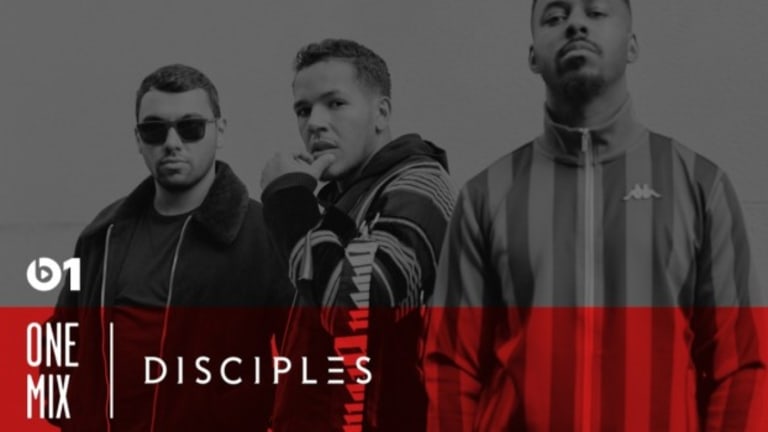 UK TRIO DISCIPLES TAKE THE DECKS FOR BEATS 1'S ONE MIX
The UK house trio behind "How Deep Is Your Love" are making their way to Beats 1 One Mix.
Back in 2015, "How Deep Is Your Love" dominated the airwaves, being played out everywhere from festival stages to retail stores. Not to mention, it found massive success on charts all over the world.
Though most people are quick to credit Calvin Harris, the track was actually co-produced with Disciples. The UK trio - Duvall, Luke Mac and Gavin Kool - started working on the track in 2013. Calvin Harris found his way onto the record in 2014, bringing a radio friendly feel to it.
Disciples followed up the collab with The Following EP later in 2015, 3 great house music tracks. They released 2 songs earlier this year, "Jealousy" and "On My Mind," both well-received.
This weekend, Disciples will be bringing a special, more underground style for Beats 1's One Mix with music, they say, is " close to us: real, underground, authentic house music!" Given their tastes, you might hear some tracks from producers like Josh Butler, Adam Shelton, The Mekanism, Chistian Burkhardt and Midland.
Air Dates:
Friday 8th December 2017 - 16:00 LA / 19:00 NY / 00:00 UK
Saturday 9th December 2017 - 04:00 LA / 07:00 NY / 12:00 UK
Before recording the set, the UK collective shared a little bit about themselves with us, including things like their dream B2B partner, guilty pleasure record and favourite BPM. Read on to see what they had to say.
First show experience:
Djing to 1 person but only realizing once the smoke cleared at the end of the night

First time you brought your mom to one of your shows:
Camden Roundhouse – iTunes Music
The artist who inspired you to become a musician:
Dr Dre
Go-to places for new music?
The club
Guilty pleasure record:
Ultrabeat – Pretty Green Eyes
Desert-island dance record:
Tim Berg – Seek Romance
Dream B2B partner:
Jamie Jones
Favorite BPM:
125
Piece of gear you always need on the road:
Toothbrush
All-time favorite festival:
The BPM Festival
Biggest misconception about dance music:
That it's just for drunk teenagers
How often do you get out and have fun, and where do you go:
If we're not gigging we're in bed or down in a country pub relaxing which we do whenever we have time off
City with the most underrated dance scene:
Glasgow
Industry prediction for the next year:
Progressive sounds are coming back.
Best piece of advice for new producers:
Never quit.
Dead or alive, who would be your dream collaborator:
Michael Jackson
What is one of the most unique experiences you've had backstage?
Coming off stage and finding out the world heavy weight champion was there and stayed to watch our set,
What's a unique travel experience you've had?
Having to get 3 flights to get to Ibiza from London
Follow Beats 1:
Website: beats1.com
Facebook: facebook.com/beats1
Twitter: twitter.com/beats1
Instagram: instagram.com/beats1official
Follow Disciples:
Website: disciplesldn.com
Facebook: facebook.com/DisciplesLDN
Twitter: twitter.com/Disciples
Instagram: instagram.com/disciples
Soundcloud: soundcloud.com/disciplesldn