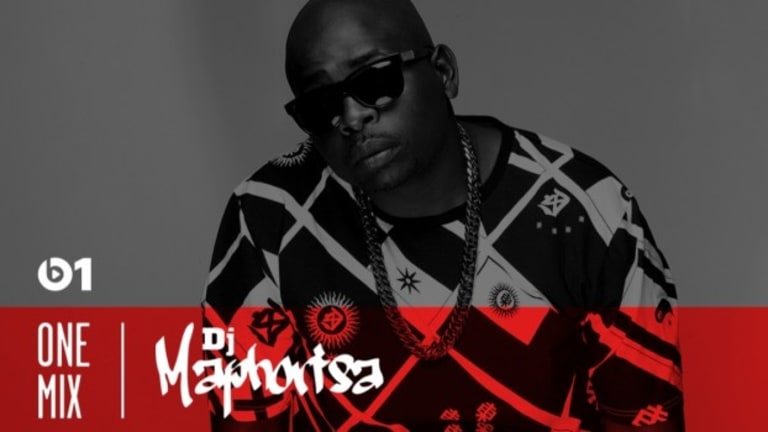 DJ MAPHORISA IS THE STAR FOR BEATS 1'S ONE MIX THIS WEEKEND
DJ Maphorisa and gqom are a match made in heaven.
Hailing from South Africa, DJ Maphorisa is bringing gqom to the masses.

Gqom is a genre of electronic music with its roots in Africa, drawing influence from South African deep house and kwaito - a blend of hip-hop and house. It's an evocative style, characterized by dark energy, broken beats, long build-ups and tribal sounds. Although it draws similarities to the feel of tech house and the menace of grime, gqom stands in a space of its own.
While DJ Maphorisa may not be a household name, he's garnered global attention with co-production credits on Drake's "One Dance" and Major Lazer's "Particula". Back home, he has helped shaped a lot of the sounds coming out of Africa. In an interview last year, he mentioned, "You can't conquer the world if your home doesn't know you." Musicians inspired and dedicated to their culture tend to create unique, heartfelt productions, and DJ Maphorisa is no different.
This weekend, he will be taking over the decks for Beats 1's weekly radio show, One Mix. Expect tunes from his exclusive Gqom Wave compilation, among a ton of other radio ready hits. Take a look at air dates below!.
[TUNE INTO One Mix - DJ Maphorisa]

Air Dates:
Friday 17th November 2017 - 16:00 LA / 19:00 NY / 00:00 UK
Saturday 18th November 2017 - 04:00 LA / 07:00 NY / 12:00 UK
Before the mix, we got to catch up with DJ Maphorisa, as he shared some of his musical insights and experiences.
EDM.com: Your first show experience?
DJ Maphorisa: It was at my high school. I DJ'd at a beauty pageant.
The first time you brought your mom to one of your shows?
She helped me put my first gig together in my hood, Soshanguve and we pulled in 6000 people.
The artist who inspired you to become a musician?
DJ Corry Da Groove inspired me to start DJing and then DJ Njava inspired me to produce beats.
Your go-to places for new music?
In my travels across Africa, and the world
Your guilty pleasure record?
Celine Dion.
The one record you would take with you to a deserted island?
Bobby Mcfarren – Don't Worry, Be Happy
Your dream B2B partner?
Converse All-Stars
Your favorite BPM?
126 hahaha!
A piece of gear you always need on the road?
Backpack with the combo – laptop; hard drives; headphones… The works
Your all-time favorite festival?
Ultra Festival in Miami
The biggest misconception about dance music?
A misconception is that it's a fad, but it's not it's a global movement
How often do you get out and have fun, and where do you go?
I go out to the movies, I like partying, hitting up clubs and listening to other DJs. So I go out every weekend.
The country with the most underrated dance scene?
Angola.
Your industry prediction for the next year?
Afro beat is going to be mainstream
Your best piece of advice for new producers?
4 keys you must never forget in a scale… Respect, hard work, dedication and stay humble.
Dead or alive, who would be your dream collaborator?
Dr Dre.
One of the unique experiences you've had backstage?
Billboard Top 100 festival in New York backstage with Major Lazer.
What's a unique travel experience you've had?
Playing GQOM in Ethiopia with broken gear and people were going crazy
Follow Beats 1:
Website: beats1.com
Facebook: facebook.com/beats1
Twitter: twitter.com/beats1
Instagram: instagram.com/beats1official
Follow DJ Maphorisa
Website: uhurumusic.co.za
Facebook: facebook.com/Djmaphorisa