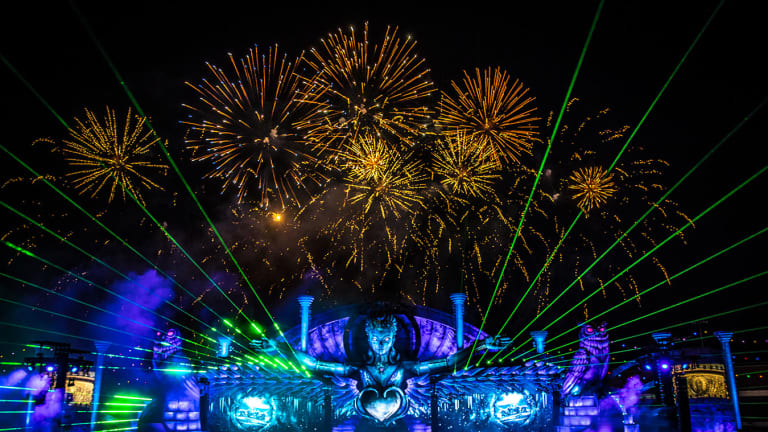 Electric Daisy Carnival & Amazon Web Services Come Together To Advance The Festival Experience
Finalists will receive VIP passes to EDC Las Vegas, and the grand prize is a VIP trip to EDC Orlando!
Electric Daisy Carnival (EDC) and Amazon Web Services (AWS) are teaming up to bring immersive technology to the festival experience.
They want fans to help though and are hosting a hackathon to bring the brightest minds to the table. The 24-hour hackathon will take place this Saturday, May 5th at Milk Studios in Los Angeles. Using cutting-edge technology, like AWS DeepLens and Amazon SageMaker, participants will be tasked with building a concrete idea to enhance the festival experience. Think of in-app advancements, augmented reality enhancements, and virtual assistants guiding attendees onsite, to name a few examples. But, really, with modern machine learning tools, the possibilities are endless.
Finalists will receive VIP passes to EDC Las Vegas, EDC's flagship festival later this month. Beyond enjoying all the festival has to offer, finalists will have the chance to conduct on-site research, and receive fan and festival feedback on their proposed ideas.
Next, EDC Las Vegas attendees will cast votes for their favorite hackathon solution. Fan voting will determine the winners of the grand prize, a VIP trip to EDC Orlando.
Come November, winners will integrate their idea into the EDC Orlando festival experience, and see the outcome of their solution first-hand.
It's quite exciting to see EDC and AWS work together, and more so, give tech-savvy fans the opportunity to improve the festival experience. Who knows, maybe other organizations will be inspired to look for cross-industry collaborations to advance electronic music. Change is never a bad thing, and technological improvements, in particular, can have a long-lasting impact. 
Registration is still open here!