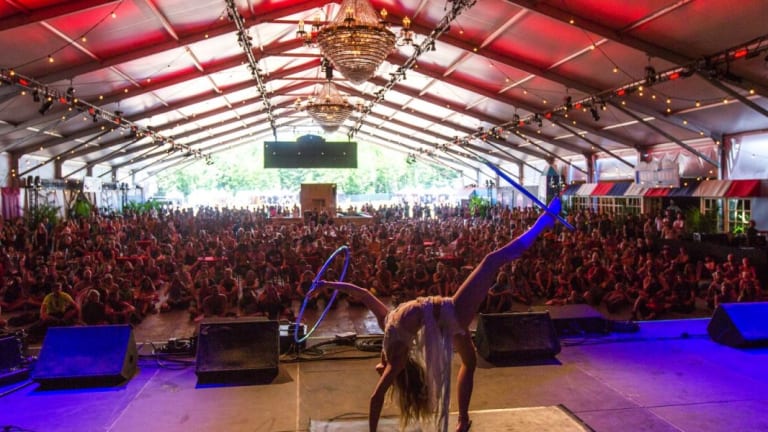 Electric Forest Contributors Announce New Festival, Roaring City
CalliopePresents will hold the inaugural edition of The Roaring City Festival this spring.
The team behind an Electric Forest staple has revealed that they've got their own festival in the works. CalliopePresents, who participate in the four-day Michigan event's The Hangar Stage, have announced a two-day Chicago gathering of their own dubbed The Roaring City Festival.
Roaring City will feature performances by such headliners as Defunk, Slynk and Sepiatonic. DJs, bands and live electronic fusion acts will be included in the festival's entertainment offerings, which the organizers describe as falling into categories like glitch hop, electro swing, neo-vaudeville, and vintage remix.
On the topic of Roaring City, CalliopePresents owner Joe Rovner has said:
"Over the years, working with and watching The Hangar evolve into a living space that took the aesthetic of yesterday but merged it with the visual pop of today really inspired me. The whole experience really excites me and the more I looked around the more I wanted to see these elements happen in places outside of EFF. The fusion of live performance, theater, and music all in a hyper color environment was exactly what I had been looking for."
Electric Forest is not the only music festival in which Calliope has played a significant role. They have also overseen The Unicorn Palace at Lightning in a Bottle, the Lords & Ladies stage at Theatre Bizarre, and the Santa Baby pop up in Chicago.
The Roaring City Festival will take place on April 13th and 14th, 2019. For more information or to purchase tickets, visit the event website. 
UPDATE: A previous version of this article incorrectly referred to CalliopePresents as the creators of Electric Forest's The Hangar Stage when they are in fact one of many teams who participate with it.
Follow The Roaring City Festival:
Facebook: facebook.com/roaringcity
Twitter: twitter.com/RoaringCity
Instagram: instagram.com/roaringcity