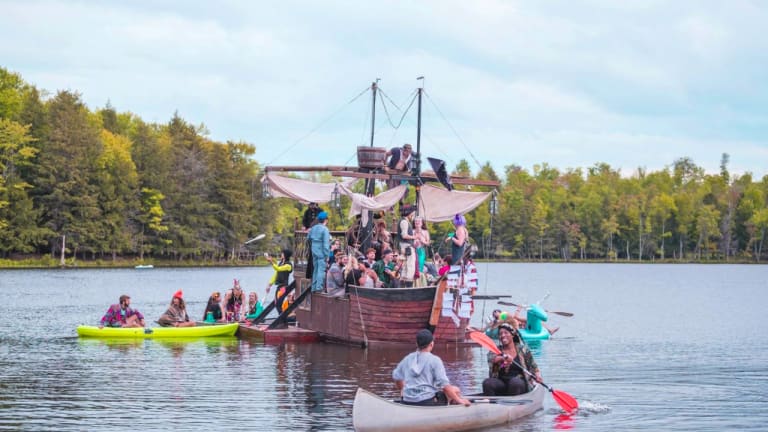 Elements Festival is Perfecting the Balance Between Summer Camp and Wellness Retreat
Finally, a festival that is as much a fun-filled party as it is a recharge for body and soul.
At the start of the week, Elements Music & Arts Festival announced a bevy of summer camp-inspired activities and wellness experiences to be available at their third edition of the event in Lakewood, Pennsylvania this Memorial Day Weekend. From May 24th to the 27th, the serene landscapes of a picturesque Pennsylvania lake set sweetly in a forest will be home to thousands from all over the world. 
Alongside summer camp-inspired games will be lectures, teachings and workshops available for those interested in learning new wellness skills. Arts and crafts will be available. There's even a roller rink disco prom, flow arts at sunsets, and for the truly brave there's a fire-walking ceremony. Juxtaposed against the heat of the raging dance floors, these activities offer a physical and spiritual cool down. Some are saying it's an essential balance that has been lacking at other events and others are just calling it flat-out "life-changing."
Summer Camp Festivities
There's nothing quite like the nostalgia of fun away at Summer camp. In addition, rock climbing and zip-lining activities, which are supported by professionals, Festing Campers and Camping Festies can enjoy mini golf, basketball, dodgeball, tetherball, volleyball - and those are just the ball-related activities! 
"One of my favorite activities is definitely the Lost Vinyl Scavenger Hunt - it's like a regular scavenger hunt but with vinyl records hidden amongst the campgrounds," said Elements Music & Arts Festival Activities Coordinator + "Funtender" Rawb Lane. If that's not enough, there will be kayaks, canoes, a costume parade, a rowdy relay race, and a full-fledged pirate ship. Plus, a no limit, barter-only Blackjack table!
"I know that what I most look forward to at Elements Lakewood this year is having an excuse to be silly again," said Lane. "To be able to just play without any reason or reward and just play for the fun of it. That's why I base a lot of my activities around just playing, not winning!"
Wellness at the WellNest
At the heart of the Wellness programming at Elements 2019 is an effort fixated on forging bonds between festivalgoers. Of the offerings, Elements Music & Arts Festival Wellness Curator Dasha Alekseyeva said: 
"This year at the Wellnest we will be focusing on connection and creativity. Expect to learn a new skill, make a new friend and connect with others. From traditional Indian dancing to partners massage! Keep your eyes open for Sputnik Disco Yoga and leave your mark on You Are Important installation!"
Those who attend will have an opportunity to partake in daily offerings at the WellNest. Couples can explore intimate sensations in "Rhythm Flow Couples Thai Massage and Camp Soft Touch." Yoga offerings at the event are rare and memorable gems both for professional yogis as well as first-timers. These include Silent Disco Yoga offered by Sputnik Yoga, "Breathwork Simulation" from Yoga Space & Atypicalyogini, and Open Flow Heart Yoga by Hacienda, which are all expected to push the boundaries of what yoga can be both as a spiritual medicine and as a wellness practice. Teachings will also be available on "Glitter and Sustainability," "How to Green Your Wardrobe," "The Importance of Sleep," in addition to the essential and timely topic organizers are calling "A NSFW Consent Workshop."
That's just the tip of the iceberg too. Plus, Elements is expected to announce more Wellness offerings soon!
"One of my favorite quotes is: 'You don't stop playing when you get old, you get old when you stop playing!'" Explained Lane. "Summer camp is about tradition and coming back to a familiar place and seeing familiar faces where you feel comfortable being yourself, you don't have to relearn the territory or the people. It's about getting passed that and cutting loose!"
Three-Day General Admission passes, VIP and a variety of swanky accommodations including glamping and legit summer camp cabins for Elements Music & Arts Festival 2019 are available for purchase at ElementsFest.us and EDM.com will be there to join in the fun.
Don't miss it!
FOLLOW ELEMENTS LAKEWOOD
Facebook facebook.com/ElementsFestNYC/
Twitter twitter.com/elementsfestnyc
Soundcloud soundcloud.com/elements-music-arts-fest
Youtube youtube.com/channel/UC2zgAjVTSqqmKElDzfOo2KA