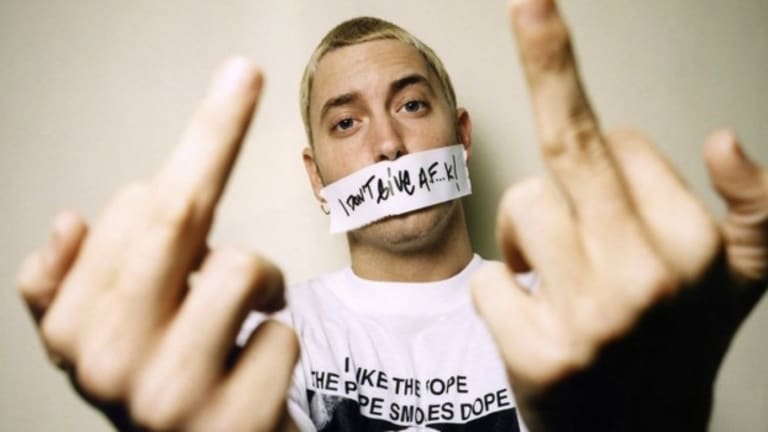 Eminem Lashes Out at Trump in 5-minute Freestyle Rap at BET Hip Hop Awards 2017
Eminem blew away everyone at the BET Hip Hop Awards by "The Storm," and how!
Known to as someone not to mince words, Marshall Bruce Mathers a.k.a. Eminem went all out, no-holds-barred at the notoriously disliked President Donald J. Trump. Taking place at the BET Hip hop awards on Tuesday, October 10th, Mathers created quite a stir with his political commentary. Surprise, surprise! Well, not so much. This is not the first time the Detroit based rapper has expressed his explicit views on the 45th President of the United States. 2016 saw a pretty long nine-minute freestyle "Campaign Speech" from him expressing his 'dislike' for the President and his ideologies.
In what unfurled to be a fierce and exhaustive attack on Trump, aptly titled "The Storm," Eminem struck out in a video that played at the BET Hip Hop Awards on Tuesday, accusing the president of racism, hypocrisy, disrespect of military veterans and more hitting the nail on the head.
The pre-recorded cypher, titled "The Storm," showcased Eminem in a Detroit parking garage surrounded by a group of stern and silent spectators as he lashes out all by himself for the solo a cappella performance. He opens the four and a half-minute rap with a reference to Trump's disconcerting "calm before the storm" reference before proceeding to slay the president over innumerable pressing issues from immigration, corruption and white supremacy, to the NFL, gun control after the Nevada incident and more. Yes, ofcourse 'the wall' had a mention too!
However, known to love his Twitter account whenever he feels 'attacked' (or not) reactions from Trump are certainly coming. And as reported by the NY Times, the two men do have a past, and an amicable one at that! Ahead of the 2004 presidential election, Mr. Trump made a cameo in the Eminem concert special "The Shady National Convention," which aired on MTV. "I know a winner when I see one," Mr. Trump said in an endorsement of Eminem's alter-ego, Slim Shady. "Donald Trump is telling you right now Slim Shady is a winner. He's got brains, he's got guts and he's got Donald Trump's vote."
Keeping it real, fans of Eminem on Twitter are equipped and ready to hit back as is proved by the example tweet below!
Eminem, who is said to be gearing up for the release this year of his eighth major-label album and first since 2013, made a powerful statement with pretty much every single point mentioned in the four and a half minute cypher.
Making his point of view extremely clear to his fans, he asks of them to pick a side between him or Trump saying, "And any fan of mine who's a supporter of his, I'm drawing in the sand a line, you're either for or against, and if you can't decide who you like more and you're split on who you should stand beside, I'll do it for it for you with this. F--- you," he said toward the end, unabashedly raising his middle finger!
While Eminem is not the only act in Hip Hop or for that matter of fact the music world in general who has vocally expressed how he feels about Trump, "The Storm" definitely keeps it real and hits home with all the burning issues quite likewise its namesake. Oh and yeah, are you surprised that in under a day this is the #1 Trending video on YouTube, yup, we didn't think so!
H/T: Rolling Stone