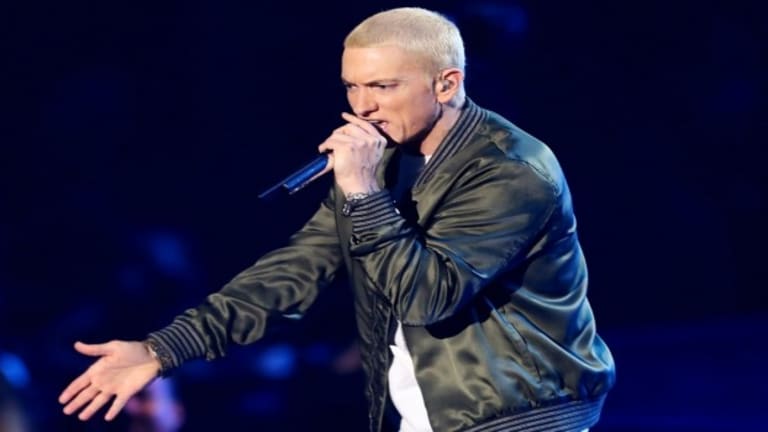 Is This Fake Drug Ad a Hint For Eminem's New Album?
This is a real clever marketing campaign right here!

We can't deny the fact that the rap god, Eminem has been teasing his new album for quite sometime now, and as we progress further and further new things starts to pop. He has been teasing the album since last year and now is the time when the image is starting to get clear. And this hint has been given out my Eminem's long time manager and new CEO of Def Jam Recordings, Paul Rosenberg. On Wednesday, October 25th, Paul posted a photo on his Instagram, in which he is holding up a CD and right across there is a drug ad named as "REVIVAL" with a reverse E, which totally signifies Eminem's logo.

The main props goes to the reddit users who were really quick to point out the facts. If you dig up some more, you'll find that in addition to the ad being fake, they have also made up a new disease called as Atrox Rithimus. Not only this, the whole ad is purchased by Interscope Records too, the home of Eminem. Check out our top 3 comments from the reddit users.

Ritchie19: It's just so "perfect" so to put it because there's no other reason why that banner would have that backwards E, there's no product it's promoting besides THAT FUCKING ALBUM.
Nicknack24: At the bottom it says 27 days left from October 22nd, which equals out to November 17th! WAY too much of a coincidence! HYPE.
Sawbaws: DUDE SCROLL DOWN TO THE BOTTOM IT SAYS "ASK FOR HELP (I NEED A DOCTOR)"

Also, if you search Atrox Rithimus, you'll only find links to Revival and if you call on the helpline number i.e 1-833-2GET-REV, Dr. Dre and Eminem's track I Need A Doctor is playing in the background while the automated voice makes reference to his hit track "Lose Yourself" and if you decide to stick longer you'll hear a female voice casually say, "We give you some serious fucking credit for sticking through this ad." While there is still no word from the man himself, one thing that is sure is, a hell lot of planning has gone into this marketing campaign if the name of the album turns out to be Revival. The album is being rumored to come out next month. We hope you're as hyped as we are!

H/T: Billboard