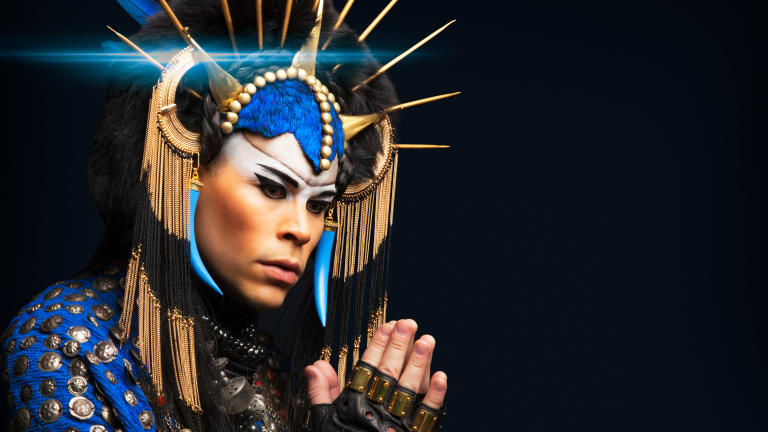 Empire Of The Sun Announce 2019 Headlining Tour
The alt-electro band's run marks the 10-year anniversary of their debut album's release.
A decade of bright, glittery indie music has culminated in a celebratory U.S. headline tour for alt-electro band Empire Of The Sun. Commemorating the group's 2009 debut album, Walking On A Dream, the summer tour hits intimate venues across the U.S., as well as in Brixton, U.K. and Paris, France. Tickets go on sale Feb. 22nd. 
The Australian band is comprised of Luke Steele and Nick Littlemore, whose theatrical and energetic live shows have held a place in both the U.S. festival circuit and major international arenas. Their colorful, anthemic style has garnered global support and acclaim with more than two billion total streams. Hits include "We Are The People," "Alive," "High And Low," and "Walking On A Dream." Since WOAD's release, the band have since put out two more albums, most recently Two Vines in 2016. 
The announcement of this most recent tour directly follows the release of a limited-edition vinyl of WOAD. On transparent, orange vinyl, the project is available through Astralwerks. It also includes a download for the previously unreleased "Chrysalis," which debuted February 1st on multiple streaming platforms. 
Find the full list of dates for Empire Of The Sun's 2019 tour below.

5/30 – Chicago, IL @ Metro
5/31 – Chicago, IL @ Metro
6/3 – Boston, MA @ Royale
6/6 – New York, NY – venue to be announced
6/7 – New York, NY – venue to be announced
6/11 – Dallas, TX @ House of Blues
6/15 – Denver, CO @ Ogden Theatre
6/16 – Denver, CO @ Ogden Theatre
6/18 – Seattle, WA @ The Showbox
6/19 – Seattle, WA @ The Showbox
6/24 – San Francisco, CA @ The Regency Ballroom
6/25 – San Francisco, CA @ The Regency Ballroom
6/29 – Los Angeles, CA @ The Fonda
6/30 – Los Angeles, CA @ The Fonda
7/9 – Brixton, UK @ O2 Academy Brixton
7/10 – Paris, FR @ Casino de Paris
FOLLOW JADED:
Facebook: facebook.com/empireofthesun 
Twitter: twitter.com/empireofthesun
Instagram: instagram.com/empireofthesunsound
Soundcloud: soundcloud.com/empireofthesunsound