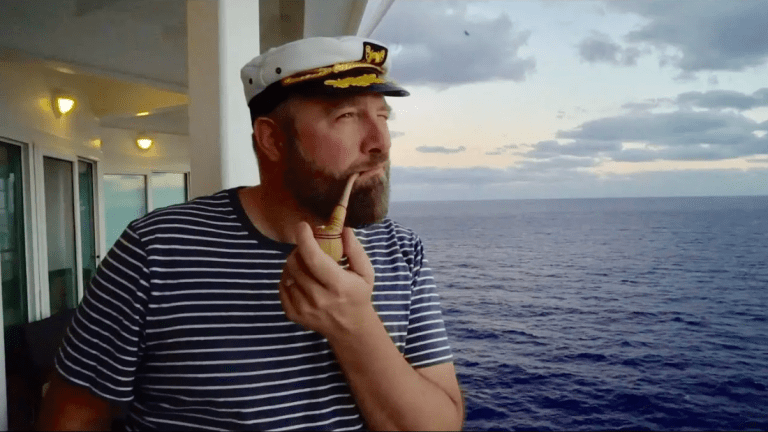 Claude VonStroke Takes On Holy Ship! in Episode 1 of The Stroke Show
The Dirtybird Boss debuted the inaugural episode aboard Holy Ship! 13.0.
Monday morning, Dirtybird fans and aspiring house music DJs all over the world took to their screens as Barclay Crenshaw, who's better known as Claude VonStroke, released the first ever episode of a weekly YouTube series called Stroke Show. 
In each installment, viewers follow the Dirtybird label boss on a 10-minute ride that offers a glimpse behind-the-scenes at a recent event, along with a chance to get to know Crenshaw off-stage and outside the studio. What starts out as a mashup of interviews where fans overcome (or at least embrace) their awkwardness in a 4:00 AM elevator ride quickly becomes a recap of highlights and antics aboard Holy Ship! 13.0. All the cinematic mischief on the boat is followed by a Charlie Rose-style talk, in which VonStroke interviews his own assistant, Maddie Gavin, and his real-life dog, Q-tip. 
The concept draws styling from the vintage cable access shows of the late '70s and early '80s, with additional inspiration from Jean Paul Gautier's famed TV series EuroTrash. Upcoming episodes will put all manner of personalities and professionals in the hot seat. Interviewees are set to include everyone from chefs and painters to janitors and CEOs. According to the series announcement, "No one is safe from the hard-hitting and oft ridiculous questions of everyone's favorite bass dad."  
See Episode 1 of the Stroke Show here:
The series is set to air each Monday on YouTube, with additional exclusive content from Stroke Show available via subscription to the BirdFeed. 
Catch Claude VonStroke on the upcoming Double Dip Tour, as he delivers dual shows on consecutive evenings at three iconic US-based venues in Detroit, Chicago, and San Francisco.
FOLLOW CLAUDE VONSTROKE:
Facebook: facebook.com/Claude.VonStroke/
Twitter: twitter.com/VonStroke/
Instagram: instagram.com/VonStroke/
Soundcloud: soundcloud.com/ClaudeVonStroke/
FOLLOW DIRTYBIRD:
Facebook: facebook.com/dirtybirdrecords/
Twitter: twitter.com/Dirtybird/
Instagram: instagram.com/dirtybirdrecords/
Soundcloud: soundcloud.com/dirtybirdrecords
Featured Photo Courtesy of Infamous PR