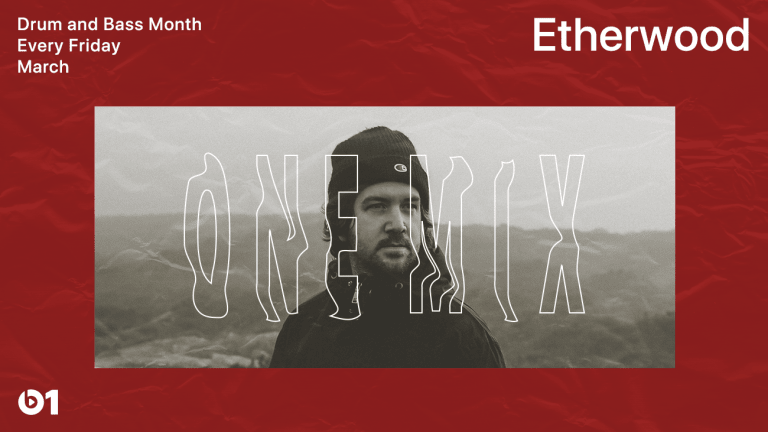 Fresh Off His Third LP, Liquid DnB Extraordinaire Etherwood Takes The Decks For Beats 1 One Mix
The type of music that makes you feel like you're floating in the sky.
Beats 1's weekly radio show, One Mix, continues its foray into drum 'n' bass with another incredible artist this weekend.
Fresh from releasing his third studio album, UK artist Etherwood will be taking the decks for One Mix. In Stillness, released just a week ago, is the perfect embodiment of Etherwood's eclectic sound. Created in the Nordic wilderness, it's no surprise the album is heavily influenced by nature, isolation, and tones of tranquility and warmth.
Etherwood has a penchant for combining DnB's raw energy with honest elegant soundscapes. An exemplary take on liquid funk, a subgenre marked by focus on traditional instrumental sounds over bar-based creation, Etherwood's style is deeply inspired by his background as a multi-instrumentalist. Rather than synths, his music is dominated by classic elements like the piano, guitar and saxophone, atop captivating DnB beats. Not to mention, he often sings on his songs, adding layers of honest vocals over soundscapes already brimming with emotion.
The amalgamation of such diverse influences results in an overall sound that is atmospheric, angelic and poignant.
Tune into Beats 1 One mix to hear what he's all about.

Air Dates:
Friday 9th March 2018 - 23:00 LA / 02:00 NY / 07:00 UK
Saturday 10th March 2018 - 06:00 LA / 09:00 NY / 14:00 UK
Expect the finest liquid DnB on his One Mix, with tunes from artists like Spectrasoul, Mohican Sun, Alix Perez, Om Unit, Dawn Wall and Haolgenix, and of course, stand out tracks from his recent 15 track LP
Before the mix, we got a chance to ask Etherwood some questions. Read on 
EDM.COM: Your first show experience?
Etherwood: Fabric Room 3. Nuts

The first time you brought your mom to one of your shows?
Plan B in London 2014 I reckon.
The artist who inspired you to become a musician?
My Dad.
Your go-to places for new music?
Ummmm, Apple music. Seriously though, that's where I hear it all.
What's your guilty pleasure record?
Belinda Carlisle - Heaven Is A Place On Earth
What's your desert-island dance record?
Photek - Modus Operandi  
Who's your dream B2B partner?
Thom Yorke
What's your favorite BPM?
One seven something
The piece of gear you always need on the road?
Kindle
What's your all-time favorite festival?
Glastonbury
What's the biggest misconception about dance music?
It all sounds the same
The best piece of advice for new producers?
Go for a shower if you get writers block  
Dead or alive, who would be your dream collaborator?
Thom Yorke
Backstage, what is one of the unique experiences you've had?
Chasing a goat around a green room to get my bottle of rum back
What's a unique travel experience you've had?
Various trips in the camper van
Well, there you have it. A brief look into the world of Etherwood.
Stay tuned as Beats 1 celebrates DnB for the month of March, with Pola & Bryson in the mix next weekend.