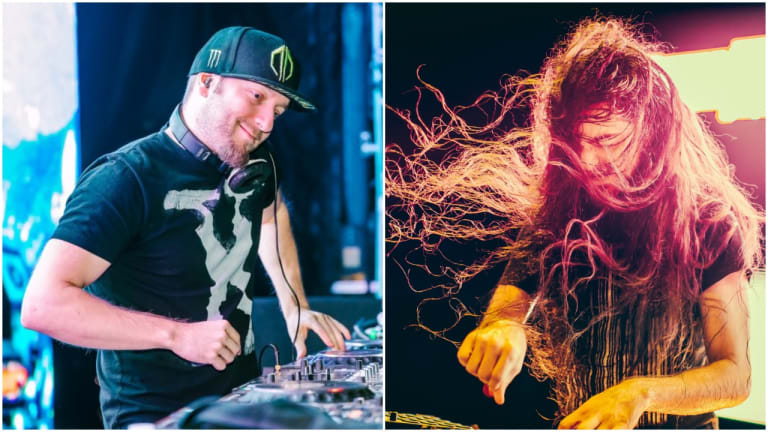 Excision Teases Bassnectar Collab: "We Talk More Often than You Guys Probably Think"
Excision also confirmed a full EP with Wooli and discussed his track with Illenium in his Facebook Q&A.
Excision's list of creative partnerships seemingly grows longer by the day, but he's got something in the works with a collaborator of yesteryear that's sent his fan base into a frenzy. During a Q&A session in Excision's Headbangers, he revealed plans to join forces with Bassnectar once again.
According to Excision (real name Jeff Abel), the two have already worked on projects that may not see the light of day. "Haha, we talk more often than you guys probably think," he responded to a fan who asked if he would ever collaborate with Bassnectar (real name Lorin Ashton) again. "We've started a few collabs but we didn't want to release them as when we do release our next collab we want it to be Grade AAA maximum quality goodness."
Abel and Ashton's most notable single together was the 2013 Destroid single "Put It Down." Prior to that, the two teamed up on a 2011 VIP of Abel's Noiz collaboration, "Force."
Abel's remark surprised fans who perhaps expected that old tensions between the two artists may have persisted. In 2015, Ashton told the Star Tribune that dubstep was "already a thing of the past," and a matter of days later Abel penned an impassioned Facebook post that many interpreted as a direct response.
In the Q&A, Abel also confirmed that his Wooli collaboration will in fact take the form of a full EP and shared that he hopes to debut the song he and Illenium "injected with maximum vibes" at Lost Lands Festival. He also said that the full questionnaire will be consolidated into a more concise format in the near future.
FOLLOW EXCISION:
Facebook: facebook.com/Excision/
Instagram: instagram.com/excisionofficial/
SoundCloud: soundcloud.com/excision
Twitter: twitter.com/Excision
FOLLOW BASSNECTAR:
Facebook: facebook.com/Bassnectar
Twitter: twitter.com/Bassnectar
Instagram: instagram.com/Bassnectar
SoundCloud: soundcloud.com/bassnectar