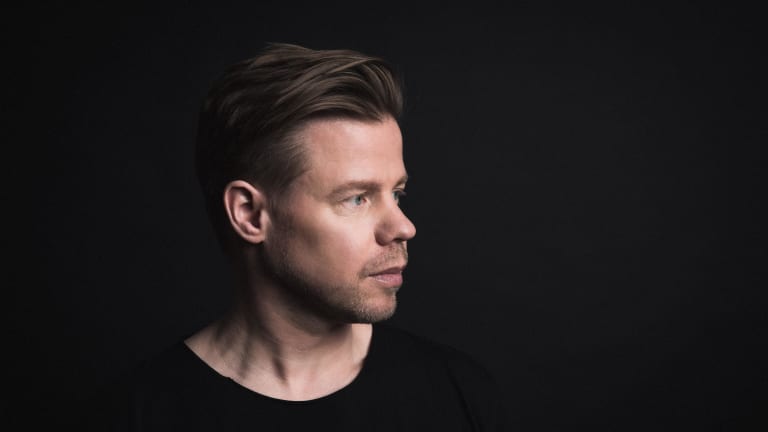 Listen exclusively to Ferry Corsten's new collab and mission to create UNITY
Ferry Corsten is on a mission to create unity in the Trance community, by bringing the 128 and 140 bpm-camps closer together.
Two months ago, Dutch Trance legend Ferry Corsten released a collaboration with another legend in the form of Paul Oakenfold. On May 4th it is time for the next collab in line, this time with Ferry's talented protégé DIM3NSION. At EDM.com you can now read how Ferry is trying to change the Trance scene with his UNITY project and listen exclusively to his new collaboration 'Safe With Me'.
"I had already received the 'Safe With Me' vocal some time ago for my Blueprint album, but it did not quite fit into that story and how Blueprint was put together. However, I really liked the beauty and warmth of the song, so I sent it to DIM3NSION to see what he could make of it. We had discussed doing a collaboration before since DIM3NSION is part of the Flashover family and he regularly visits the studio as well. But these ideas were more Gouryella-like stuff with big synths, which most people would have expected from us collaborating. Instead, we eventually created this slightly Progressive production."
"It actually is a lot of fun to try out something different and go against the expected. When you produce such a collab the way everyone expects it to be, the fun and interest in the track will go away quite soon. Besides that, this vocal track has more depth and value in it, which I like about it."
Connecting the different Trance islands with UNITY
'Safe With Me' is part of Ferry's brand new UNITY project, which will be a series of collaborations from Ferry Corsten and other artists within the Trance scene. With these collabs, Ferry is trying to get these producers to go against what is expected of them as well. He already did so with DIM3NSION on 'Safe With Me' and is planning to add more names to the list. According to Ferry, the next UNITY single will be with Alpha 9 [aka Arty], while Ilan Bluestone recently visited his studio to work on their collaboration. Other names that can be added to the list are Hard Trance titan Jordan Suckley and of course Markus Schulz, whom with Ferry has made many tracks before. Furthermore, there have been informal talks with Gareth Emery as well, but "this is still very premature and no single note has been produced yet." By collaborating with such diverse artists within the Trance scene, Ferry is trying to build bridges and create unity within the Trance community.
"I noticed that the Trance scene is in some way divided into two camps: the guys playing and producing no less than 138/140 bpm, while the more groovy and house-influenced guys play around 128 bpm. In between it is quite empty with only a few guys producing around 132 bpm. The result is that camp 128 will never get as far as playing 140 stuff, while camp 140 does not seem to know how a pitch control works. Despite the existence of these islands, both camps still state 'we are the Trance scene.' I would like to have more guys doing stuff in between since you cannot pitch a track down from 140 to 130 bpm. This will make the track sound 'treacly' and make it lose much of its energy. When producing tracks in the middle, the 128 camp only has to pitch these tracks down a little bit, while the 138 guys can still pitch it up to their beloved tempo. By creating the ability for everyone to play each other's music, we will strengthen Trance as a movement."
By doing collaborations with both Ilan Bluestone from the Anjunabeats 128 camp, as well as a Jordan Suckley who is on the Hard Trance side of things, Ferry is attempting to fill up this gap with his UNITY collaboration project. He claims that the Bass and more Bigroom-EDM scene present themselves much more as a movement, whereby all these guys are collaborating and playing each other's tunes. The rise of the Bigroom/House influences within the Trance scene could be one of the reasons for this division in Trance music. For example, Above & Beyond started playing slower and Ferry himself incorporated Bigroom elements into his sound.
"I always have been creating Trance, but I also look around to how music develops. First with some Electro elements, and later with Bigroom influences which I have incorporated into my Trance sound. Unfortunately, the whole Bigroom movement eventually got out of hand. It turned fully into the 1…2…3 JUMP modus, with having an MC asking 25 times whether the crowd is ready. Seriously guys, after 25 times I will probably have been ready for a while. However, having an aversion towards these Bigroom influences does not mean you need to stop looking for each other's sound within the Trance community."
"On the 140 side of things you can taste the aversion towards the Bigroom influences, resulting in a mindset like; the more Bigroom influences are coming into Trance, the more 'pure' we will be going. Their mood radiates that: 'when it is not 140 bpm, it is not Trance'. I don't know whoever wrote that rule, but it will never make it into my book. For example, I did a collaboration with Aly & Fila [Camilla], and really, really needed to convince them to get from 'their' 140, to the 136 bpm it was eventually released on. We are only talking about 4 bpm less here. I often said to Aly & Fila; 'you make such great tunes, but it is just too fast.' When they will make versions around 134, it can also be played by an Above & Beyond who are not even close to playing these 140 bpm tracks now. Eventually is 'the greater good' of this UNITY project to bring these 128 and 140 camps closer together."    
The future of UNITY
In addition to creating unity in the Trance scene, another 'greater good' is that Ferry decided to donate a part of the revenue of his collaboration project to VH1's Save The Music Foundation. This organization is focussing on restoring music programs in schools and has successfully donated new musical instruments and equipment to over 2,000 public schools across the USA to date.
"I still feel extremely blessed with being able to create and play my own tracks, with which I turned my hobby and passion into a career. I was given that opportunity to do so, and now I want to give others that are in a less fortunate situation the opportunity to at least start playing with music as well. I therefore decided to support VH1's Save The Music Foundation by donating a part of the revenue from the UNITY tracks to them. In the end, it all starts with these kids learning how to make music in class."
With having the mentioned artists lining up to finish their collaborations, Trance fans will probably be pleased to hear there will be a new UNITY release every six to eight weeks. Eventually, these tracks may be put together in the form of a mix compilation as well, but future plans regarding compilations or hosting events and festival stages have not been created yet.
"The whole thing just started by collaborating with others and trying to create more unity within the Trance scene, and for now I do not really know how the project will develop. It is just one big experiment, with which I am trying to tear down these boundaries and enjoy the sparring with these other producers and their opinions."
For now, there will only be some club shows with the collaborating artists, similar to the one with Alpha 9 [Arty] in Exchange LA last February. 'Safe With Me' with DIM3NSION will be released on Flashover Recordings on May 4th, but readers of EDM.com can listen to the great vocal track here already!! In addition, Trance fans can look forward to many more Ferry Corsten collabs later this year.