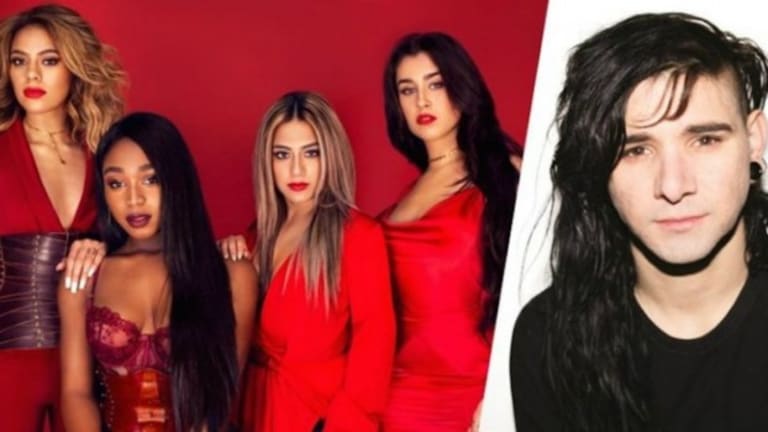 Skrillex-Produced Fifth Harmony Track "Angel" is Out Now! [LISTEN]
Skrillex and Poo Bear produced track "Angel" from Fifth Harmony's self titled third studio album is here now, and yes, it has a video too!
Last December, Fifth Harmony went from a quintet to a quartet after 5 years of being one! Ironic as it is, the 'fifth' harmonizer, Camila Cabello, left the band to pursue her own solo career leaving them as a foursome to continue.
As four strong and committed women, Ally Brooke, Normani Kordei, Dinah Jane and Lauren Jauregui, took matters into their hands and carried on saying 2017 would see the promised and anticipated third studio album by the quintet.
Back in March of 2017,stemming out of a snapchat story, the worlds of Dance music as well as Pop music alike, were brimming over with excitement at a prospective Skrillex and Fifth Harmony collaboration in the works. Initially contemplated as being a Skrillex track featuring the vocals by the girls, the speculations were put to rest when it was announced that it was in fact a Skrillex produced track for the new self titled Fifth Harmony studio album.
Just a few days ago, we got to hear the results of this collaboration as well, by the means of "Angel." This second single off their self-titled album comes as a follow up to the Gucci Mane assisted jam "Down" that dropped earlier this summer. Released as an instant gratification on the Pre-order of Fifth Harmony which is due to release in a couple of weeks on August 25.
Known to be one of the most diverse (and brilliant) producers of our time, Skrillex has donned a number of hats ranging from his signature bass heavy tunes to producing winners for the world of pop (For eg: the Beibs!) and pretty much acing it every time! After a wave of new releases in the past couple of weeks with his Poo Bear collaboration "Would you ever" to his DJ Sliink and Wale collaboration for "Saint Laurent."
Following up the slay of releases, we got "Angel" last week. However, as soon as you hear it you'll agree with us that it'd definitely a Fifth Harmony track with the flavor of Skrillex more than anything else. Produced by Skrillex and Poo Bear, the track about being in a relationship based on outright unrealistic expectations, is a groovy and vibey feel with the processed vocals by the girls on the front line, all with an underlying Skrillex stamp all over it.
The official video for the track has dropped too and shows the girls exude a new found confidence tormenting the dreams of an individual who perhaps wronged them, or did them in during a relationship.
Speaking to Seventeen in an interview, Ally explained the band's journey since Cabello's exit saying, "We're focusing on this new era. We've had some highs and some very, very sad lows, but together we're writing our new narrative."
Fifth Harmony drops on August 25 and can be pre ordered here!
In the meantime we're vibing to "Angel" and waiting for what Skrillex bestows on us next! A new signature Skrill track, an unexpected collaboration? Or a brand new album with all the time he's been spending in the studio? Well, your guess is as good as ours for now! But rest assured, you'll be sure to find out here!
H/T: EDM Sauce