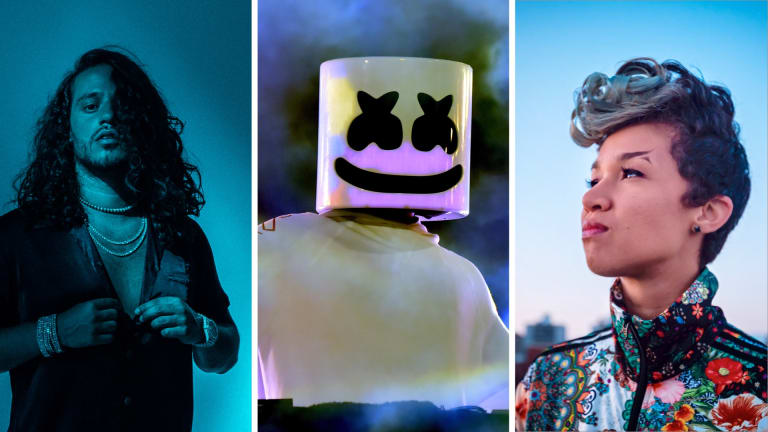 Marshmello to Headline Forbes Under 30 Music Festival Along with Russ and Butterscotch
After making it onto the Forbes list of Highest paid DJ's, Marshmello now has the honor to close out the Forbes Under 30 Summit Music Festival in Boston!
Sunday, September 30, is when the Forbes Under 30 Summit 2018 will kick off in Boston. In its fifth year now, the music festival that kicks off the summit has come to become a tradition. With another all-star lineup, the Under 30 Summit Music Festival will see performances by famed DJ and Producer Marshmello, Platinum recording artist and producer Russ and beatboxer Butterscotch.
The summit which will run September 30, 2018 – October 3, 2018, is expected to convene more than 7,000 young entrepreneurs, visionaries and disruptors from around the world. Speaking about what the festival means in relation to the summit, Randall Lane, Chief Content Officer, Forbes Media and creator of the Under 30 franchise said,
 "The Forbes Under 30 Summit connects Under 30 members, mentors and future list members through its powerful events and experiences. The music festival has become a Summit tradition, and we're starting off this year's festivities with another all-star lineup."
While Forbes compiles a yearly list of the highest paid DJ's, and with their eyes closed everyone already knows Calvin Harris will dominate the top spot, Marshmello made it to the #5 spot in 2018! He rose from the #8 spot in 2017 up three places on the 2018 list. Check out the entire list here.  
While the lineup at the festival has been brilliant and diverse every year, the past four years have seen performances by the likes of Zedd, Afrojack, Halsey, Wiz Khalifa, and Lindsay Stirling. This year while Marshmello will be headlining, he will also be accompanied by platinum recording artist Russ and the vocal percussionist virtuosa, Butterscotch. 
Marshmello is no stranger in the world of EDM with his chart-topping singles, featuring collaborations with the likes of Selena Gomez, Migos, Khalid, Logic, and more. Platinum-selling recording artist and producer Russ burst onto the scene with his album There's Really A Wolf, which chronicled his by-the-bootstrap rise to fame. Russ achieved the rare feat of a Platinum debut and surpassed 1 billion audio streams in the U.S. in 2017. Butterscotch uses her powerful voice to defy gender and music social constructs. She began her career in the underground male-dominated beatbox battle scene, where she was crowned the world's first female beatbox champion.
Speaking about how she feels about performing at the summit Butterscotch said, 
"I'm elated to share my story through my music and be inspired by so many admirable humans who are shaking up the world! Peace, love and bananas, let's do this,"
While the Under 30 Summit Music Festival won't be the only featured event at the summit, there will be a number of events over the days from a Women @Forbes Under 30 event where the women of the Forbes Under 30 lists come together for a day of programming and networking devoted to accelerating leadership roles for women in tech and finance. And also a Forbes Under 30 Food Festival, headlined by some of America's most notable young chefs.
This year's Under 30 Music Festival will only be only open to Forbes Under 30 Summit general attendees or premium pass holders. To purchase a pass to the summit and for more details, head here.