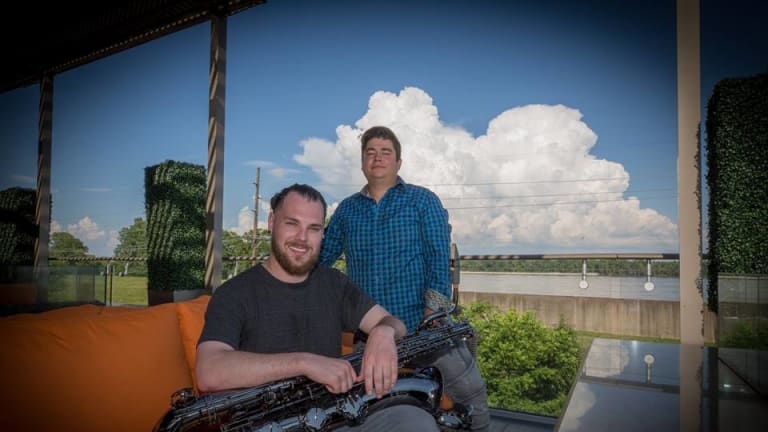 Future Joy to Embark on Stop! Let's Go! Tour 20GR18 in December
Live electronic music band Future Joy are set to make major moves next month.
Future Joy will likely become a staple among fans of live electronic music throughout the U.S. by the end of the year. After seeing significant early success, the quirky Denver duo have revealed plans to embark on a nine-date tour next month.
The Stop! Let's Go! Tour 20GR18 (which is literally pronounced twenty-great-teen) will commence on December 6th and conclude on the 17th. The duo will bring their "saxually active" stylings to such cities as Chicago, St. Cloud, Columbia and Des Moines before wrapping things up with a gig in their hometown.
Future Joy is comprised of Zach Simms and Frederic Park, two longtime friends and collaborators. The former plays saxophone and DJs while the latter holds down drummer duties. Songs like "Thirsty" and "Up All Night" have enabled Simms and Park build a strong early fan base for the project.
"Being able to play original music in a new town every day is the dream," said Simms. "For us, this is the next step."
Find the full list of dates and venues making up Future Joy's Stop! Let's Go! Tour 20GR18 below:
Banner photo credit: Alan Westman Photography
Poster photo credit: Halle Nicholas
Poster design: IdeaZign Media
Follow Future Joy:
Facebook: https://www.facebook.com/FutureJoyMusic/
Twitter: https://twitter.com/futurejoymusic
Instagram: https://www.instagram.com/futurejoymusic/
SoundCloud: https://soundcloud.com/futurejoy