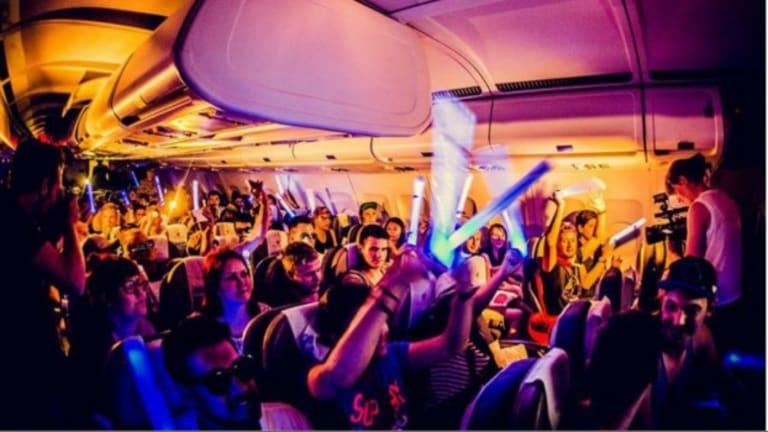 Fans are Treated to a Mini Rave Courtesy of Ganja White Night On a Grounded Airplane Returning from Lost Lands
Cause when there is a "Secret Set" by Ganja White Night and an airplane full of ravers turning it into an after-after party on your flight back home from Lost Lands, you definitely know its lit!
There are festivals and parties, there are after parties, and there are what're supposedly called after-after parties. But what unfurled earlier this week falls in a category of its own!
As an airplane full of fans heading from Columbus to Minneapolis returning from Excision's Lost Lands festival hit turbulent weather with a thunderstorm, they were forced to reroute and land in La Crosse, WI. While no one was allowed off the airplane, the headbangers began to slowly get the party started right there and then.
With a variety of portable speakers blaring music and a whole lotta the festival goers who didn't seem to have had enough just yet headbanging away, the atmosphere in the flight began to get lit. But, that wasn't all. Upon realizing Ganja White Night were returning on the very same flight after their special guest appearance at the festival, there was no holding the ravers down.
The entire cabin (almost) began to chant "Secret set!" until the duo played a super brief but just as exciting few moments. While flight attendants were definitely not all for this, they gave in and said on the intercom everyone could "rage out for 30 seconds!"
Nicole Williams, one of the passengers gave a first hand experience of how things went down:
"We were on a flight from Columbus to Minneapolis and got rerouted to La Crosse, WI due to a thunderstorm. They wouldn't let us leave the plane and we got a little antsy and started playing music (and of course – headbanging). We were told multiple times to turn the music off. Being as persistent as we were… We continued playing the music and headbanging. The group then started chanting loudly; "Secret Set! Secret Set! SECRET SET!" As Ganja White Night turned and smiled at all of us. Finally, one of the flight attendants got on the intercom and told us to rage out for 30 seconds. This is what happened."
H/T: Noiseporn