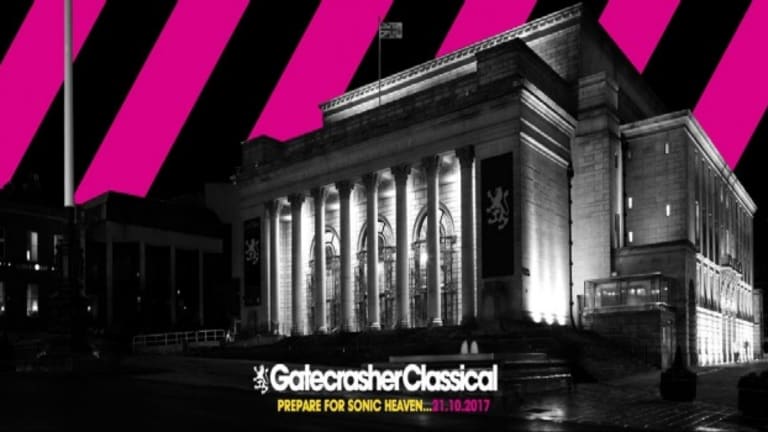 Get an Orchestrated Twist on All Your Trance Favorites with Gatecrasher Classical
World renowned clubbing brand Gatecrasher is all set to take you to 'Sonic Heaven' as it celebrates it 24th Birthday on October 20-21 with Gatecrasher Classical.
World renowned clubbing brand Gatecrasher is all set to celebrate 24 years in the business, in style! Taking a bunch of Trance classics and giving them a twist, a 50 piece orchestra is all set to take you to 'Sonic heaven' whilst celebrating the 24th birthday of the Gatecrasher brand.
In what promises to be "Gatecrasher as you have never heard it before," they are looking to combine a live 50 piece orchestra with a timeless trance soundtrack leading to the momentous Gatecrasher Classical! The lion is back and ready to take things to the next level at the stunning Sheffield City Hall for two nights - October 20th and 21st.
This year also marks the 85th birthday of Sheffield City Hall which over the years has played host to the big guns like The Rolling Stones, The Beatles, Moby to name just a few. Richard Hunter, Sheffield City Hall General Manager expressed his excitement regarding the unique event celebrating Gatecrasher saying,
"We're delighted that Gatecrasher, one of the most iconic clubbing brands in the world, have chosen Sheffield City Hall for this hometown celebration. Club nights at Gatecrasher and classical concerts at the City Hall are two essential parts of Sheffield's musical identity so it's particularly exciting to be able to bring them together and give local audiences something new to experience.
Gatecrasher Classical will feature a spectacular laser & light show coupled with an array of special FX, all with the sound packing a punch through a full fledged club sound system. During this extravaganza, some of the biggest trance tracks which have become emblazoned in the hearts & souls of the Gatecrasher faithful, will be played out like one would never expect. Overall, promising to a ton of hands in the air moments and an undoubtedly unforgettable experience.
Hosted by original resident DJ from back in the day, Judge Jules and curated by Scott Bond the show will also feature live performances by original artists. Hear some stellar voices perform tunes like, "as the rush comes" by Jes, "Skydive" performed by Jan Johnston, "Bullet in The Gun" by Merle Forbes.
Tracks & Remixes by Above & Beyond, Armin Van Buuren, Tiesto, Ferry Corsten and Robert Miles among many more will be performed live by the Gatecrasher Orchestra during these illustrious Gatecrasher Classical events.
Don't sleep on it and grab your tickets here!
In the mean while, here's some soothing Adagio for strings, the orchestral way, to tide you over till October!