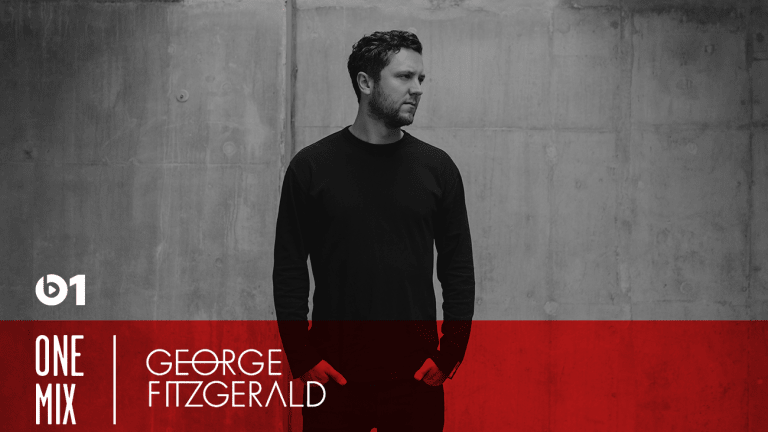 George Fitzgerald Has An Exclusive Mix For Beats 1 One Mix This Weekend
PS: there's an exclusive Bonobo collab in the mix.
Looking for a fresh mix to bump this weekend? Beats 1 has you covered.
One Mix, Beats 1's weekly radio show, hosts talented artists from all across the electronic music spectrum. They have started the year on a strong note with mixes from Sofi Tukker, Slushii, Hardwell, Claptone, Lane 8 and MK.
This weekend, George Fitzgerald will join the list as he returns to One Mix for an exclusive hour-long set. The English musician is prominently known for his eclectic fusion of house, UK garage, and techno.
Friday 23rd February 2018 - 23:00 LA / 02:00 NY / 07:00 UK
Saturday 24th February 2018 - 06:00 LA / 09:00 NY / 14:00 UK
With his second LP "All Must Be" slated for release next month, there's a lot to be excited about. According to Fitzgerald, the album has "psychological roots" in Berlin and London, as he tries to incorporate "the processes of upheaval, change, acceptance, and renewal."
"I wanted to mirror the uncanniness you feel when a massive event happens in your life." "Everything looks and sounds the same but it's somehow different. Your surroundings are less intelligible." - George Fitzgerald
We hope to hear tunes from the album in his One Mix. For all you Bonobo fans, there's a collaboration between Fitzgerald and Bonobo on the album. Fitzgerald will be playing "Outgrown," said collab, exclusively for his One Mix.
Expect music from artists like Lone, Pangea, Special Request and Ripperton, as Fitzgerald boasts "this mix is patient, emotional, powerful."
Before taking the decks, we got the chance to shoot a few zingers at Fitzgerald. Read on for his guilty pleasure record, dream b2b partner, and the one time he played in Crimea before it was annexed by Russia. 
EDM.COM: YOUR FIRST SHOW EXPERIENCE?
George Fitzgerald: The kitchen at somebody's house-party in North London somewhere.
THE FIRST TIME YOU BROUGHT YOUR MOM TO ONE OF YOUR SHOWS?
Only finally this year at a gig in Brighton with Bonobo. Shameful, I know.
THE ARTIST WHO INSPIRED YOU TO BECOME A MUSICIAN?
Billy Corgan
GO-TO PLACES FOR NEW MUSIC?
I'm lucky enough to be sent a lot of great music, but I try and go record shopping still. OYE in Berlin has always been a favorite of mine.
YOUR GUILTY PLEASURE RECORD?
Missy Elliott - Pass That Dutch
DESERT-ISLAND DANCE RECORD?
Boards of Canada - Geogaddi
DREAM B2B PARTNER?
Larry Levan
FAVORITE BPM?
Errr. 128? It's in the middle of a lot of things.
A PIECE OF GEAR YOU ALWAYS NEED ON THE ROAD?
Noise-cancelling headphones so I don't have to talk to anybody.
ALL-TIME FAVORITE FESTIVAL? 
Glastonbury - the king of festivals
BIGGEST MISCONCEPTION ABOUT DANCE MUSIC?
That it's simple.
HOW OFTEN DO YOU GET OUT AND HAVE FUN, AND WHERE DO YOU GO?
I live in Peckham in South London, and there's a lot of amazing small venues here. I try and go to gigs when I have time. It's good to reconnect with musical spaces as a spectator rather than always being on stage.
CITY WITH THE MOST UNDERRATED DANCE SCENE?
Boston. There's a small but lovely community of people there based around a party called Make It New.
INDUSTRY PREDICTION FOR THE NEXT YEAR?
Streaming will kill the pop star (hopefully).
BEST PIECE OF ADVICE FOR NEW PRODUCERS?
Stop listening to everybody else's music. You'll just end up sounding like them.
DEAD OR ALIVE, WHO WOULD BE YOUR DREAM COLLABORATOR?
Kraftwerk
One of the unique experiences you've had backstage?
Getting a speedboat through Sydney harbour to a stage I was playing was OK I guess.
A UNIQUE TRAVEL EXPERIENCE YOU'VE HAD?
I played a festival a few years ago in the Crimea before it was annexed by Russia. The festival was run as its own country and had its own "police force". Most of the punters were walking around naked. That was pretty strange to be honest. 
Catch George Fitzgerald on Beats 1 One Mix this weekend, and stay tuned for next week's star!
Follow Beats 1:
Website: applemusic.tumblr.com/beats1
Facebook: facebook.com/beats1
Instagram: @beats1official
Twitter: @Beats1

Follow George Fitzgerald:
Website: george-fitzgerald.com
Facebook: facebook.com/GeorgeFitzgeraldOfficial
Instagram: @georgefitzmusic
Twitter: @georgefitzmusic