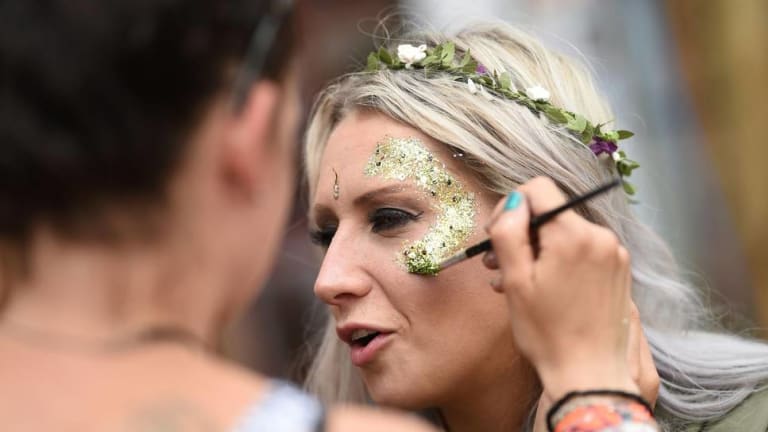 Nearly 60 UK Music Festivals Are Banning The Use Of Glitter & Other Plastic Products
Don't worry, there are other better glittery options!
Last year we wrote about how the new Policing & Crime Bill that was passed on April 3, 2017, in the UK banned the use of Pyrotechnics that included fireworks and flares. If you didn't know about that you can head over here and catch up! This gave the festival goers a massive shock because the setup and tiny things like these play a huge role in giving the ravers the whole round experience of the festival!
Now seems like yet another major accessory is getting banned and that is the use of Glitter because of it being harmful to the environment and the wildlife. 
This new environmental plan focuses on banning these plastic-based materials so as to clean up England's water bodies because in the end, when you clean yourself up all this junk goes to the rivers and beyond from your tiny little drain! Since the nature of this substance that it doesn't break down easily and we all know what plastic has done to the sea life, it has almost similar and shockingly threatening effects on nature on the land as well! We know some people might be freaking out because it might kill their vibe, but there is no need to be mad as there are so many biodegradable glitter options out there in the market which will give the same results & will be more merciful on our environment! 
Over 60 music festivals in the UK have now signed the #DrasticOnPlastic pledge, which means that the festivals that have signed this pledge will have to be free from single-use plastics which not only includes glitter but straws, plastic cups, food trays etc by 2021! It would be so nice to see if other festivals across the world associate themselves with this cause. These are the festivals that have agreed to ban the use of single-use plastic by 2021!
2000trees
Ampthill Festival
ArcTanGent
Barn on the Farm
Beat-Herder Festival
Belladrum Tartan Heart
Bestival
Bloodstock Open Air
Bluedot Festival
Boardmasters
Boomtown Fair
Burning Lantern Festival
Camp Bestival
Chase Park Festival
Common People
Deer Shed Festival
Eisteddfod Genedlaethol Cymru
El Dorado
Elderflower Fields
Electric Fields
End Of The Road Festival
Fairport's Cropredy Convention
Festival No.6
Festival of Voice
Field Day
Fire in the Mountain – Tan yn y Mynydd
Garage Nation Outdoor Festival
Green Gathering
Greenbelt Festival
Handmade Festival
Hanwell Hootie Music Festival
Hebridean Celtic Festival
Just So Festival
Kendal Calling
Kew The Music
Larmer Tree Festival
London Remixed Festival
Long Division
Lost Village
Magical
Meltdown Festival
Mint Street Music Festival
Nozstock The Hidden Valley
Oxjam Music Festival
Oxted Beer and Music Festival
Pangaea Festival
Pete the Monkey Festival
Rewind Festival
Shambala Festival
Standon Calling
Starry Skies
Strawberries & Creem Festival
Sunflowerfest
SWN Festival
The Vicar's Picnic
Tramlines
Truck Festival
Twisterella Festival
Underneath the Stars festival
Victorious Festival
Village Green
Y-Not Festival
H/T: The Sun