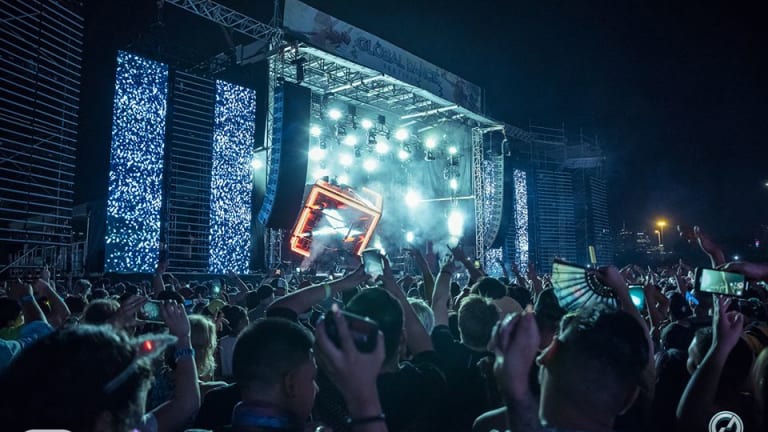 Global Dance Festival Day 2 Delayed Due to Lightning Strike Warning
Unforeseen circumstances will push back the second day of Global Dance Festival until further notice.
Unforeseen circumstances have forced the organizers of Global Dance Festival to to make changes to the event's schedule. Potential lightning strikes due to thunderstorms have kept the Denver, Colorado gathering from commencing at its scheduled time.
According to a statement, the lightning strike warning could last anywhere between 60-120 minutes. Gates were scheduled to open at 3:00 PM MST. Attendees who arrived via ride share have been encouraged to gather near gate 10, which is sheltered by an overpass.
Billed for the 2019 edition of Global are such EDM mainstays as Kaskade, Zhu and a back-to-back set between Illenium and Excision. The opening acts that were canceled due to the weather include Adam Stark, DJ Tanastadi, Andy Immerman and Case Closed.
It remains to be seen how long it will take before Global Dance Festival resumes operations. This is a developing story that will be updated as more information is made available.
UPDATE 3:55 PM MST: Global Dance Festival's organizers have begun admitting patrons.
UPDATE 5:30 PM MST: Global Dance Festival's organizers have temporarily evacuated the festival grounds in anticipation of thunderstorms.
UPDATE 6:15 PM MST: Severe winds have caused the Monstercat stage at Global Dance Festival to collapse after the event had been evacuated.
UPDATE 7:00 PM MST: The remaining programming of Global Dance Festival 2019 has been cancelled. Day two ticket holders will be automatically refunded, and all who purchased two-day passes will receive a 50% refund. 
FOLLOW GLOBAL DANCE FESTIVAL:
Facebook: facebook.com/globaldancefestival
Twitter: twitter.com/GlobalDanceFest
Instagram: instagram.com/globaldancefest