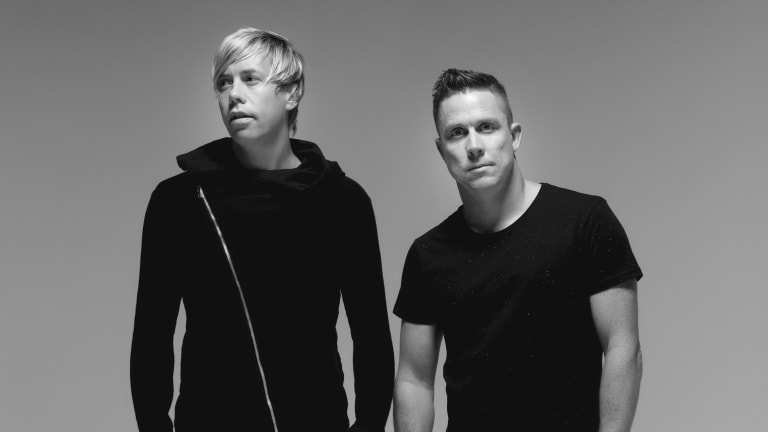 GoldFish and Zeeba Release Mesmerising Acoustic Video For "It Was You"
The Armada duo linked up with Zeeba in Chile and had some fun in the studio.
GoldFish just released the acoustic version and video for their hit "It Was You," featuring recording artist Zeeba. The Armada Music-signed duo, originally hailing from South Africa, have been experimenting with new sounds and moods ever since they released their Late Night People album in 2017. "It Was You" was one of their first releases showcasing their new style.
Two months later, GoldFish's acoustic version for "It Was You" has come out. The smooth video resulted from a session the duo had with Brazilian singer Zeeba, as they had just performed at a show in Chile. EDM.com has the pleasure of premiering the single and the video they shot, where they are intimately performing the song; GoldFish are on the saxophone and piano while Zeeba showcases his unique vocal stylings. 
"We've always been about songwriting that tells a story. With this track, it was really cool to step away from our normal style and create something slower and more emotional with Zeeba," said GoldFish of "It Was You." in a joint statement. "It was a lot of fun writing together and Zeeba was the perfect musician and vocalist to collaborate and explore this side of our music personalities with. The song really speaks to how quickly life passes us all by, and we wanted to channel that feeling. It's bittersweet, just like life!"
Zeeba has a similar view of the track. "I think that people will identify with the song not only because of its great vibe and really cool energy, but also because of the way it speaks about relationships and remembering beautiful moments – those we had when we were 17, when things were easier and we had less responsibilities," he said. "It's really that light sensation of returning to the place where we didn't have to worry about anything."
GoldFish's debut album Caught In The Loop came out in 2006, and the two South African producers have only been gathering more attention ever since. Their dedication has led them to many shows/festival appearances, a US iTunes Dance Top 10, an MTV Africa Award and a four-year residency at Pacha Ibiza.  
Follow GoldFish
Facebook: https://www.facebook.com/GoldFishLive/
Instagram: https://www.instagram.com/goldfishlive/
Twitter: https://twitter.com/GoldFishLive
Soundcloud: https://soundcloud.com/goldfishlive
Follow Zeeba
Facebook: https://www.facebook.com/marcoszeeba/
Instagram: https://www.instagram.com/zeeba/
Twitter: https://twitter.com/MarcosZeeba