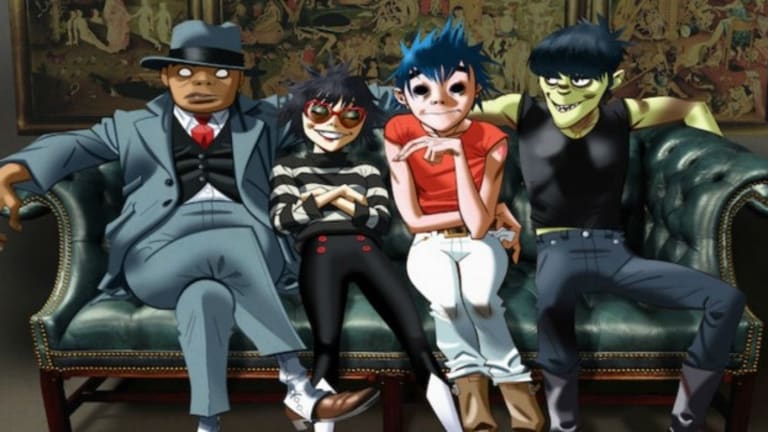 Gorillaz Share 4 New Tracks from Upcoming Album 'Humanz' [WATCH]
After a long wait, Gorillaz first album since 2011 is slated for an April 28th release.
'Humanz', mark those calendars for April 28th! The Brit sensations Gorillaz have just announced their new album titled Humanz revealing the details and artwork along with not just one or two, but four spanking new music videos!
For the lesser inundated, Gorillaz was started by Damon Albarn and Jamie Hewlett as an experiment of sorts that mixes music, marketing, and animated art. The two members, along with a handful of collaborators, are represented publicly by four virtual characters: 2D, Murdoc Niccals, Noodle, and Russel Hobbs. When the band launched in 1998, the characters and their world were portrayed in music videos, the band's website, and limited live performances. After six years of silence, these animated primates are back to make an impact and how!
Humanz features contributions from Grace Jones, Mavis Staples, Danny Brown, De La Soul, Pusha T, Kali Uchis, Kelela, and many more. And now it has also been revealed that actor Ben Mendelsohn (Rogue One, Bloodline) narrates the album's interludes! The Force definitely seems to be with them on this one.
The four new stunners they dropped today go by the names of: "Saturnz Barnz" ft. Popcaan, "Andromeda" ft. D.R.A.M., "Ascension" ft. Vince Staples and "We Got the Power" ft. Jehnny Beth of Savages. Each of these tracks is accompanied by their own custom art and visuals which add up to giving off a very unique but at the same time familiar vibe for the humanz of the Gorillaz universe.
Gorillaz released the long-awaited tracks yesterday (March 23) afternoon on YouTube and other streaming services. Within hours of the release, all four new releases from alt act reached the top 10 of the Billboard + Twitter Trending 140 chart which measures the real-time acceleration of conversation around artists and their music on Twitter, with "Saturnz Barz," featuring Popcaan leading the way with a No. 1 rank!
Also, on March 24th when most of the lot in the United States and from all over the world are partying it up at Day 1 of Ultra Music Festival in Miami, on the other side of the world in London, Gorillaz will be performing the entire album live at a show at a secret location!