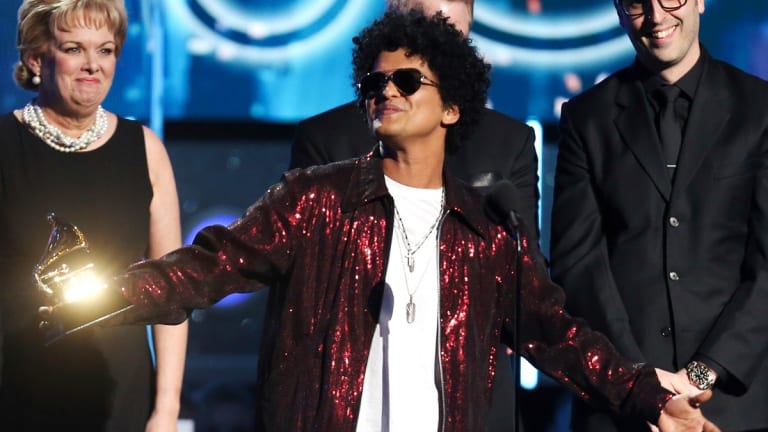 Industry News Round-Up: Grammys, Streaming Revenues up 33%, According to Report & More
According to a report, streaming revenues skyrocketed 33% in 2017.
Bruno Mars won big at the 60th G Awards
Bruno Mars' major wins at the 60th Grammy Awards this year were historic. While they stirred controversy for many, Mars' winnings sent a shockwave throughout the music industry. According to Billboard, "To win album, record and song of the year in one fell swoop is rare; to do this as an R&B artist, more so; to win record and song for two separate tracks off the same album, rarer still."
Mars' 24K Magic album won album, record, and best R&B album of the year. "That's What I Like," the album's title track, won song of the year.
LCD Soundsystem won best dance recording for "Tonite." Kraftwerk took home the best dance/electronic album for their 3-D The Catalogue album.
You can view the full list of GRAMMY winners here.
EDM.com's host for House of Latroit Radio snagged the GRAMMY for best Remixed Recording with Depeche Mode's 'You Move.'
Latroit, who recently joined EDM.com for an exclusive podcast series House of Latroit, won best remixed recording for Depeche Mode's "You Move."
The house genius behind the Latroit name is Dennis White, and he takes an unprecedented approach to music that flawlessly represents the vibe, sound, and culture of past and future dance music. White graduated from Berklee College of Music and intended on working with live bands. When he had neighbors move in next door to his Detroit apartment, White was opened to an entirely new realm of music. His new neighbors, Derrick May, Kevin Saunderson, and Juan Atkins clicked well with him. Saunderson recruited White to shape-shift the growing electronic music industry. The rest is history (and includes a Grammy!). Congrats, Latroit! 
Streaming revenue is up 33% since 2017
One of the key major labels, Sony Music, raked in a whopping $3.85 billion in 2017. Roughly half of that revenue comes directly from audio and video streaming. According to Music Business Worldwide, "Streaming platforms--across video and audio--contributed $1.65 billion to Sony Music's recorded music operation in the period, up 32.9% on 2016."
As streaming continues to take hold and dominate the way we listen to music, physical sales continue to fall. A few physical mediums (vinyl) are on the rise, however. The physical sales dropped 7.2% to $1.17 billion, while downloads dropped even more: 22.6% to $467 million. The streaming revolution is in full-swing.
Celebrate Black History Month with Beatport and electronic music pioneers
Black History Month is a time to celebrate the incredible achievements by African-American people. These successes don't go unnoticed, and Beatport is celebrating African-American electronic dance music artists' achievements that have shaped the industry to what it is today. These artists include none other than Ron Trent, Mala, Jeff Mills, and many more. Beatport have compiled various genre-based playlists, including techno, deep house, house, drum and bass, funk/soul/disco, leftfield bass, and more.