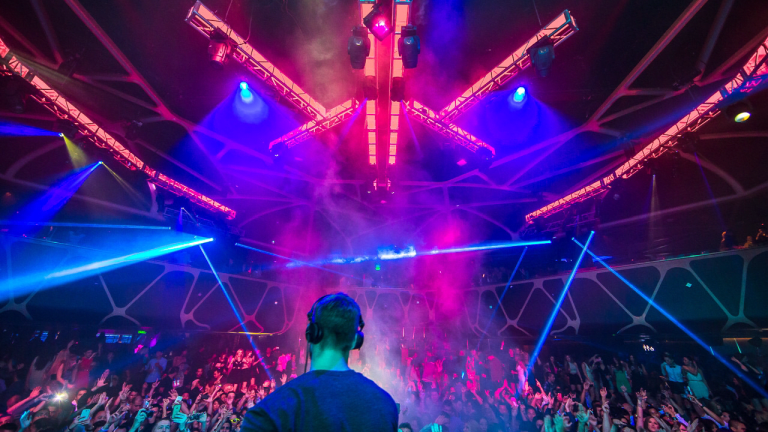 Hakkasan to Unveil Multimillion-Dollar Ceiling Light Installation
Hakkasan is upping their game with this one-of-a-kind installation as new entrants like KAOS enter the Las Vegas nightlife market.
When it comes to partying in the sin city, Hakkasan Nightclub has time and again proved itself to be among the top picks. 
Located in the magnificent MGM Grand Hotel & Casino, Hakkasan elevated and evolved the prestigious global restaurant brand into an all-encompassing nightlife experience. With artist residencies by the who's who of the music scene from Calvin Harris to Tiësto and Steve Aoki to Zedd, Hakkasan Group leaves no stone unturned to that end. 
This May, the club is set to unveil a multi-million dollar, one-of-a-kind ceiling light installation that is poised to reinvent the nightlife experience they offer and usher in a new era for the legendary nightclub. The brainchild of Hakkasan Group's vice president of entertainment, James Algate, the Hakkasan Grid will elevate the nightlife experience while offering performers completely customized, constantly changing visual displays. 
Speaking about the project, Algate said:
"The nightlife industry requires constant evolution and excellence, and we pride ourselves on consistently rising to this challenge and providing our guests with unforgettable, transformative experiences. We're thrilled to yet again push the boundaries of nightlife with the new Hakkasan Grid. We're confident that guests will be blown away by this futuristic, multisensory experience we've created." 
The spectacular light grid has been custom made and 3-D printed in Berlin, and is composed of 57 individual triangles that can be transformed into an unlimited number of shapes and colors. These variations as set to give revelers an immersive, sensory experience. 
It is also set to be the only structure of its kind that is pixel-mappable and capable of color mixing, allowing fully-customized images and patterns to flow between triangles seamlessly. The grid's ever-changing light displays will also reflect and refract off of surrounding mirrors to create an even more immersive experience for guests dancing beneath it.
The award-winning nightclub has been known to offers a diverse nightlife experience through its variety of areas and atmospheres, cutting-edge technology and inspired design immersed over three levels. And we know for a fact with the addition of the Hakkasan Grid in May, the venue will become an unmissable spot to party at when in Vegas. 
Find Hakkasan Nightclub's entire event calendar here.
Follow Hakkasan Las Vegas here:
Facebook: facebook.com/HakkasanLV
Twitter: twitter.com/HakkasanLV
Instagram: instagram.com/hakkasanlv