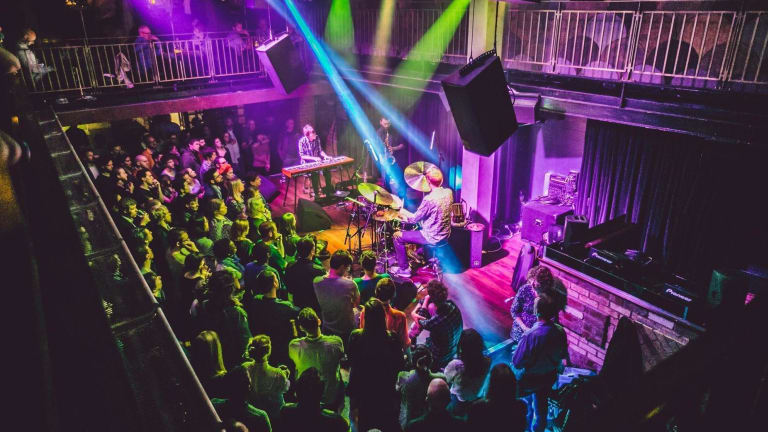 Help Keep The Jazz Cafe Alive Through New Crowdfunding Campaign
Due to COVID-19, the famous London venue faces permanent closure.
Historic Camden, London venue The Jazz Cafe celebrated its 30th anniversary in 2020, but with COVID-19 sadly engulfing the world, the venue was forced to close its doors. It has officially been on hold for three months now and expects to be locked down for another six months at the minimum. In order to prevent the space from permanent closure, the venue has launched a crowdfunding campaign to ensure its survival during this pandemic. 
The musical landmark has generated no income since closing, but still has a run rate of £31,000 per month. They have received no rent relief from their landlord and unfortunately do not qualify for a government grant—an issue many venues are facing during this time. In order to stay afloat, they are hoping the public will step in and support what has become a mainstay for some of the biggest names coming in and out of Camden, including Adele and the late Amy Winehouse. 
The team set up the Crowdfunder is asking their community not for charitable donations, but for them to buy Jazz Cafe experiences ahead of time, to be redeemed when they reopen. The tiered reward system range from a drink, tickets to any club night of your choice, tickets to any gig of your choice, 3-course meal for 2-4 people, and entry to every gig in 2021. The biggest package, priced at £1000, gives you access to every gig for the next 5 years and 5 VIP tickets to Maiden Voyage Festival 2021. 
Every £31,000 raised will help to secure their future for another month and will help protect the livelihood of hundreds of people, including musicians, sound engineers, resident DJs, bar staff, chefs, and security guards. The campaign was able to raise over £97,000 in three days and currently stands at £105,668 with a goal of £186,000. You can learn more about the fundraiser and how to donate here.
Alongside this mission is the UK's Music Venue Trust, which launched back in April with the #saveourvenues campaign to provide funding to venues threatened by the COVID-19 pandemic, raising over £1 million of donations in the first week alone. Venues across the world are facing similar issues to The Jazz Cafe, including fabled LA venue The Troubadour, who recently announced they are heading towards permanent foreclosure. The potential closing of The Jazz Cafe further begs the question, "Will the industry ever be the same?"
FOLLOW THE JAZZ CAFE:
Facebook: facebook.com/thejazzcafe
Twitter: https://twitter.com/thejazzcafe
Instagram: https://www.instagram.com/thejazzcafe
Website: thejazzcafelondon.com