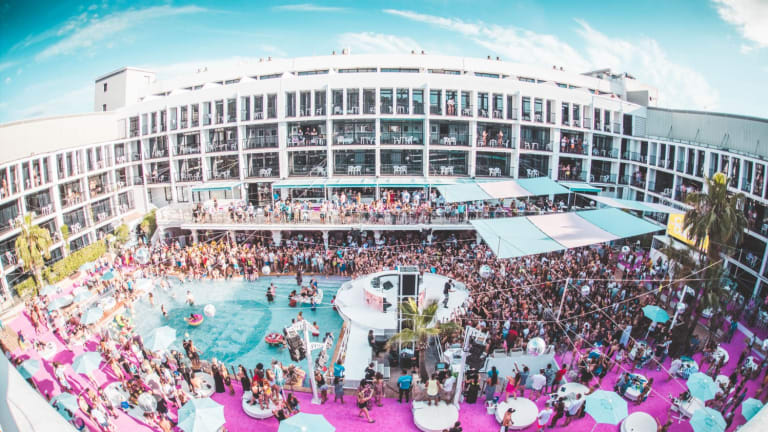 Ibiza Rocks to Debut "Poolside Sessions" in Compliance with Safety Regulations Starting July 2020
With Spain's plans to reopen, the open-air venue unveils a new 2020 party series.
Just last week we received the wonderful news that an Ibiza summer could still be in the cards when Spain's Prime Minister, Pedro Sánchez, announced that the country will reopen to international tourists starting July 1st. Now, Ibiza Rocks, the San Antonio open-air club and hotel, has announced they will be reopening alongside the travel lift and will launch a new party series titled "Poolside Sessions".
"We're seeing beaches, bars, and restaurants opening up and things are starting to feel really good for San Antonio this summer," Ibiza Rocks shared in a statement. "That being said, the challenges caused by COVID-19 mean that unfortunately we can't go ahead with our previously published July event programme, however, we do have a new plan in place."
"Poolside Sessions" will follow all the protocols set out by Spanish public health authorities, with a contingency plan in place in case of any infections. Being that it is an open-air venue, they expressed that they are "one of the safest environments to party in Ibiza," and hope to reinforce that notion by instating these new regulations. This includes staff temperature checks, personal protective equipment for employees, safety screens, hand sanitizers, contactless payments, additional daily cleaning, and a new social distanced layout for the bars, restaurants, and public areas of the hotel and venue.  
While COVID-19 was proving to be doom for the White Isle, it's looking as if things may be turning around for at least some of those in the nightlife industry, predominantly the beach and open-air venues. With Spain being the second most popular tourist destination in the world, they were used to welcoming an estimated 80 million visitors annually prior to the onset of the pandemic. Their nightlife industry supported an estimated 12% of its total annual GDP, according to a recent report from DJ Mag, and it was dealt a massive blow when everything was shut down. We can only hope that a successful and safe reopening will usher in a method for other countries to follow suit. 
To find out more about Ibiza Rocks' new "Poolside Sessions" series and the safety measures they've put into place, visit their website here.