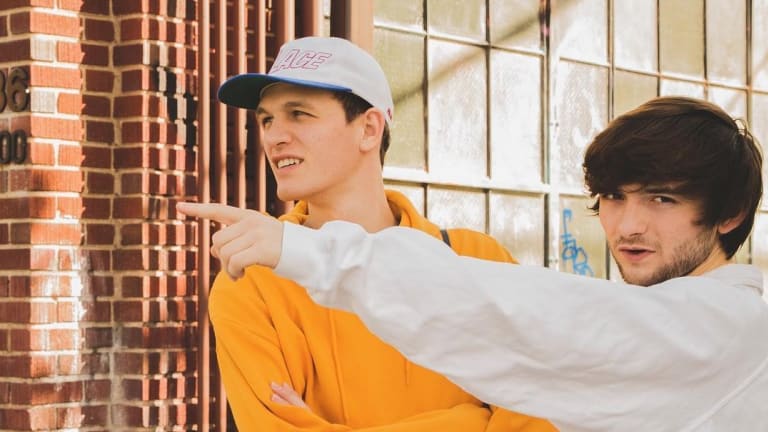 ilo ilo Premieres New Single by Taking Louis The Child on a Scavenger Hunt
The mysterious ilo ilo took Louis the Child on an interesting journey.
Although no one knows the identity of up-and-coming artist ilo ilo, the mysterious project has accumulated over a million streams on Spotify alone. Ilo Ilo has gained a popularity for their enigmatic presence, taking fans and artists alike on crazy adventures. Three months ago, they took a fan on a wild journey through NYC filled with riddles, gifts, and of course, music. 
This time, they took two familiar artists on a trip. Last Friday, Louis The Child was taken on a scavenger hunt through NYC by ilo ilo. The electronic duo documented it all through their Instagram story. After following clues sent to them via Instagram and text, the pair discovered a secret package that contained a rose and a USB. They opened it on a laptop to find a new song, guest mix, and tracklist. 
Louis The Child (consisting of Robby Hauldren and Freddy Kennett) broadcasted the adventure on their Instagram story. On November 12th, Louis the Child uploaded the guest mix to their XM Playground Radio show. Well played, ilo ilo. 
ilo ilo's new single, "come over," was premiered during their guest mix on Louis The Child's Playground Sirius XM Radio Show, and is now available for streaming. Watch the full episode here.
Follow ilo ilo:
Instagram: https://www.instagram.com/iloilofeel/
SoundCloud: https://soundcloud.com/iloilofeel/come-over
Follow Louis The Child:
Facebook: https://www.facebook.com/LouisTheChild/
Twitter: https://twitter.com/LouisTheChild
Instagram: https://www.instagram.com/louisthechild/
SoundCloud: https://soundcloud.com/louisthechild