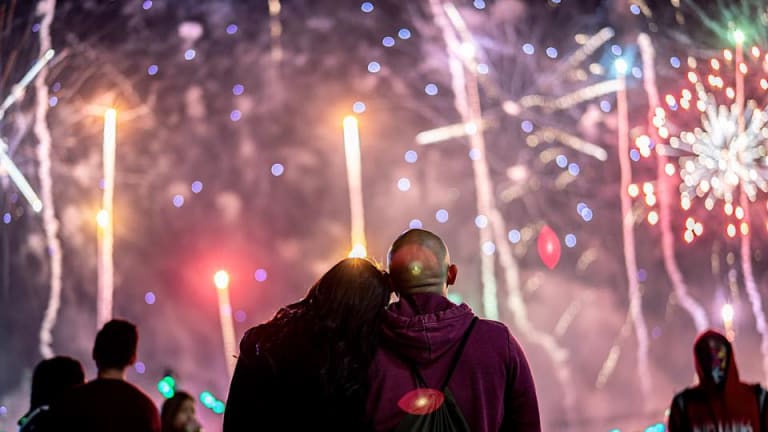 Insomniac Contributes $70,000 to Communities In Schools of Southern Nevada
Funds were raised through the 2019 EDC Las Vegas Charity Initiative.
In an ongoing effort to give back to the Las Vegas community, Rich Thomas, Insomniac's vice president of culture and content, visited Chaparral High School to celebrate the fundraising efforts made during the 2019 EDC Las Vegas Charity Initiative. In partnership with Surreal, an online fundraising platform, Insomniac was able to raise $70,000 for Communities In Schools (CIS) of Southern Nevada. 
CIS of Southern Nevada is a nonprofit devoted to dropout prevention, serving over 50,000 students in Las Vegas. As an affiliate of the nation's leading dropout prevention organization, they work with schools to provide resources to that help low-income students in K-12 succeed. 
Attendees were offered two different donation options as a chance to not only give back but win amazing prizes. Those who donated could enter into sweepstakes or an auction with possibilities of scoring meet and greets, backstage tours, campground flyovers and more. 
Insomniac delivered on their promise and thus was able to positively impact the lives of students at both Chaparrel and Sunrise Mountain High School. In a moving speech to the CIS Academy Class, Thomas touched upon his career and the personal journey which led him to work for one of the largest music festival brands in the world. He said:
"It was an honor to spend the morning yesterday at Chaparral High School and meet the amazing young adults in the CIS Academy Class. Insomniac and Communities In Schools of Southern Nevada share a very similar passion for creating environments where people can feel happy, welcomed, comfortable in their own skin, and surrounded by others who could very well be going through similar life events. To be seen for who you are and be lifted up by a community that believes in you is priceless and rare, and we feel very privileged to contribute to CIS's mission through our EDC Las Vegas Charity Initiative."
The Insomniac motto "All are welcome here" resonates when discussing students' welfare in schools. No matter your socio-economic class or background, a child should have equal opportunities to thrive throughout their education. They should feel comfortable walking into school knowing that the people and programs provided for them will help them reach their optimal potential. It's efforts made by companies like Insomniac and CIS that help all students feel welcomed throughout their educational careers.  
Insomniac has now completed its fifth year of the annual EDC Las Vegas charity campaign. They have raised over $500,000 for local Las Vegas charities that have had impacts on everything from sustainability/environmental awareness, law enforcement/first responders, mental health programs, education, to children and families. Most recently they launched an initiative to provide 5,000 people with "shiftpod" shelters in the Bahamas after the devastating effects of Hurrican Dorian hit the region this past September. Donate through their Go Fund Me page.
FOLLOW EDC LAS VEGAS:
Facebook: facebook.com/electricdaisycarnival
Twitter: twitter.com/EDC_LasVegas
Instagram: instagram.com/edc_lasvegas