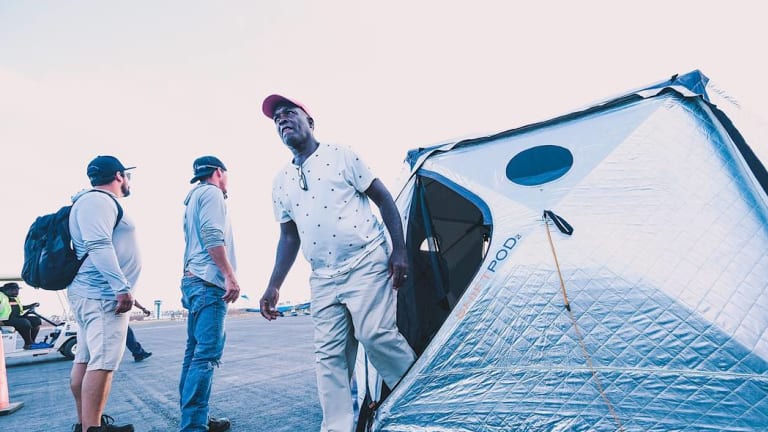 Insomniac Sends Tents To Bahamas for Hurricane Dorian Relief
Insomniac uses their music festival shelter expertise for a good cause.
Insomniac is aiming to provide 5,000 people with a "shiftpod" shelter in the Bahamas after Hurricane Dorian decimated the region in early September. 
Shiftpods are Insomniac's state-of-the-art tents that include air conditioning and access to electrical outlets. Every year, the company is tasked with creating a city of pods for its flagship Electric Daisy Carnival event in Las Vegas. With an estimated 70,000 people left without shelter in the Bahamas according to the United Nations, the company is applying its expertise in this field to help those in need. 
Insomniac has already delivered nearly 1,000 pods to the region. As that effort is ongoing, members of Insomniac's logistics team are additionally training families on how to set up and maintain the pods. At a festival, they will typically be packaged for six, but even bigger families in the Bahamas have been able to live comfortably in them thus far.
The initiative is expected to cost over a million dollars. Insomniac is raising additional funds in part through a Go Fund Me. The company states the donations will be used to pay for "generators, water purification devices, bedding, toiletries, and other supplies to help create a sustainable living environment for families."
FOLLOW EDC LAS VEGAS:
Facebook: facebook.com/electricdaisycarnival
Twitter: twitter.com/EDC_LasVegas
Instagram: instagram.com/edc_lasvegas