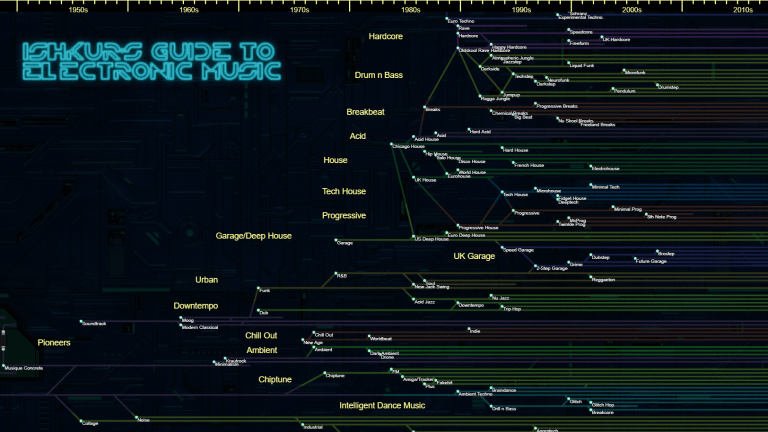 Ishkur Quietly Releases His Fully Updated Guide to Electronic Music, 3.0
Prototyped as far back as 2006, Ishkur has finally released his magnum opus.
Grizzled readers and veterans of the rave scene may remember Ishkur's Guide to Electronic Music. Originally created in the year 2000, Ishkur's Guide 1.0 was an interactive, tongue-in-cheek family tree for the early families of electronic music: house, trance, techno, breakbeat, jungle, hardcore, and downtempo. 
Quickly expanding on his project, Ishkur published guides 2.0 and 2.5 in 2003, but were abandoned in 2005. Plans for Guide 3.0 were drafted in 2006, but with little progress to show, most did not believe it would ever see the light of day. However, in 2015, Ishkur revealed a prototype map of his newest guide and on the eve of 2018, promised the imminent release of Guide 3.0.
Taking the entirety of 2018 and beyond to complete the project, Ishkur's Twitter began a countdown on July 15, 2019, to what could only be assumed to be Guide 3.0. Much like his erratic schedule of yore, the countdown was haphazard tweeting of multiple numbers at a time, with no updates in-between. 
After sitting at 0 for several days, the prophecy was finally fulfilled and the creator dropped Ishkur's Guide to Electronic Music, version 3.0.
Ishkur's Guide tracks the growth and fractalization of the EDM scene starting with a compressed view of the "Pioneers" of electronic music, listing experimental tracks from as far back as 1937. As the years progress, the map splinters into genres, subgenres, and sub-subgenres. Each of the splinters in the map is segmented by year, and clicking on each of these segments brings up a playlist with one or more tracks of the corresponding genre from that year. The guide is of course equipped with the Ishkur's snark and impressive knowledge, so readers can both listen, learn, and bathe in nostalgia. 
Hi there. I am Ishkur. This is version 3.0 of Ishkur's Guide to Electronic Music.

There is a bit of history to this. The first two versions of the Guide were Flash monstrosities released in 2000 and 2003. They may still be online somewhere if you look hard enough. Version 2.5 was maintained and updated for two years and was abandoned in 2005.

A Flash v3 of the Guide was planned in 2006 but never got past the pre-dev stage. After three design reboots, the abandonment of Flash, and several personal, artistic and technical decisions later, the Guide you are looking at right now was pre-dev'd in 2010. The map and music categorizing was mostly finalized around 2014 (but in some instances still isn't done), programming in 2016, and content, art and functionality in 2017. Compatibility for all devices and formats as well as additional research and extras were added in 2018 and 2019.
Ishkur's Guide to Electronic Music is certainly an expansive piece of work and is an important hallmark in the history of electronica. Though the wait was long, the results are prodigious, and the product is jaw-dropping. 
Lose yourself exploring Ishkur's Guide to Electronic Music. 
Follow Ishkur:
Twitter: https://twitter.com/Ishkur23
Mixcloud: https://www.mixcloud.com/Ishkur/