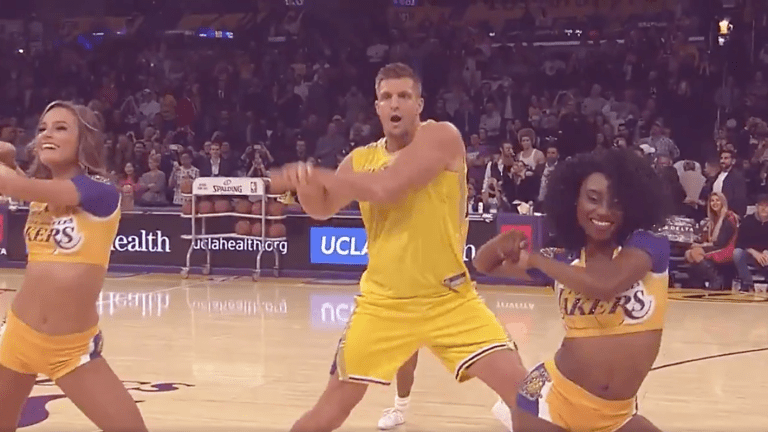 James Corden and Gronk Dance to Zedd at a Lakers Halftime Show with the Laker Girls
James Corden and Rob Gronkowski jammed out to "Stay" by Zedd.
In case the trailer for Gronk Beach Miami wasn't evidence enough, Rob Gronkowski has a flair for the ridiculous. The former New England Patriots tight end recently danced alongside James Corden and the Laker Girls during a Los Angeles Lakers halftime show to Zedd's "Stay" featuring Alessia Cara.
Corden, who hosts The Late Late Show, appears to pick up on the cheerleading squad's choreography fairly quickly as can be seen in a clip of the show. Gronk marches to the beat of his own drum, however, with big kicks and outrageous moves that make him the center of attention.
"Stay" came out in 2017 via Interscope Records and reached #7 on the Billboard Hot 100 chart. It also hit #1 on the publication's Mainstream Top 40 chart, making it both artists' third top ten single on the chart.
Gronkowski is also gearing up for a Super Bowl party in Miami, Florida with even greater EDM crossover value. For more information, visit the Gronk Beach Miami website.