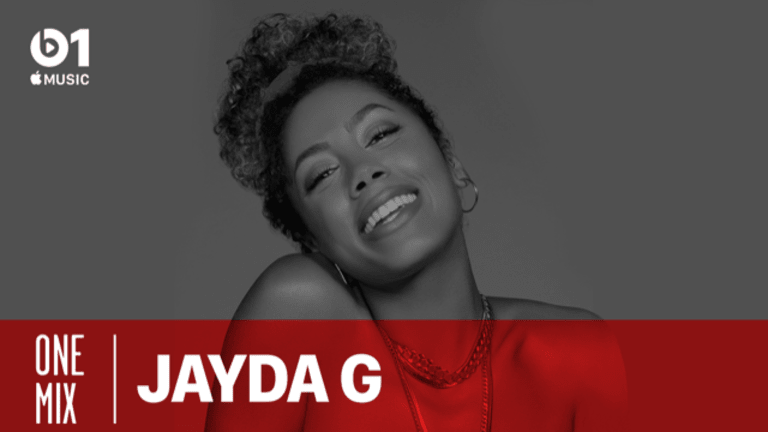 Rising Disco Talent Jayda G On Beats 1 One Mix
A marine biologist and music lover, last year Jayda G finished her masters degree while performing 80 international shows and wrapping up her debut album.
Beats 1's weekly radio show One Mix welcomes rising Canadian artist Jayda G to the decks this week. Given Jayda G's love for house, soul, and disco, expect tunes from Adeva, Janet Jackson, MK, and Joe Smooth.
Tune in here, exclusively on Apple Music.
Air Date: Friday 5th July 2019 - 21:00 LA / 00:00 NY / 05:00 UK
Vancouver-born Jayda G (real name Jayda Guy) has always had a passion for music. Growing up, her dad used to craft mixtapes for family road trips, inspiring Guy to do the same at just ten years of age. Her sister took her roller-skating to the sweet sounds of disco, and her brother, who worked for various record labels, would receive music samples in the mail which Guy would go through.
Between classical, jazz, funk, blues, and R&B, her home was filled with sounds wide and varied. Beyond listening, Guy picked up playing the violin and piano too.
Her taste-making sensibilities developed as a pre-teen when she would scour Limewire after school every day and make her own mix CDs. Later, she began collecting records and bought old Numarks off her friend to DJ. Moving to L.A. in 2010, she drew towards electronic music, courtesy of KCRW DJ Mathieu Schreyer. In particular, Guy fell for the sounds of Theo Parrish, Moodymann, and Larry Heard.
Then, finding home in Berlin, Guy's affinity for electronic music took an even stronger hold. However, the club culture didn't. Guy hardly went to parties, spending much of her time in the studio, with her family, or out in the stillness of nature. Not your typical Berlin DJ.
Alongside DJ Fett Burger, Guy built the Freakout Cult record label. Releases like their collaboration "NYC Party Track " and Guy's "Diva Bitch" set the sound for the label.
Things really picked up for Guy in 2017 when she played at Amsterdam's Dekmantel festival. Her set was released through the infamous Boiler Room and received major traction online with over 760,000 views on YouTube. The performance drew fans and critics alike. Some loved Jayda's bubbly stage presence, others didn't. Many perceived Guy's mixing skills as sub-par. Though she isn't afraid to admit that she beatmatches and mixes quickly, focusing on the crowd and atmosphere rather than the technical aspects of mixing.
Mixing aside, It's hard to deny Guy's got an infectious way behind the decks. Singing along to the songs, non-stop, free spirit dance moves, beaming smile, and unwavering energy. Soul, funk, house, techno, disco, R&B, her sets span across a variety of genres too, holding upbeat energy while making room for diverse sounds. Also, unlike the average disco DJ, she's not afraid to touch the classics.
A few months ago, Guy released her debut album Significant Changes on Ninja Tune, home to producers like Peggy Gou and Helena Hauff. She finished the album in 2018, alongside playing 80 international shows and completing her master's degree in Resource and Environmental Management.
The album pokes at her passion for marine biology. The title itself is a nod to the most used phrase in her thesis while individual tracks dive deeper into her aspirations for curbing human activity against whales. That's right, Guy wants to save the whales.
"Orca's Reprise" contains a field recording of whale calls amidst a solemn soundscape while "Missy Knows What's Up" samples biologist Misty MacDuffee demanding the protection of whales. 
Environmental odes aside, the nine-track album is a great spread of house, disco, and soul.
Get to know more about Jayda G as she shared plenty with us ahead of her One Mix.
EDM.com: First show experience?
Jayda G: Probably one of my first concerts was when I was 10 years old. I went down to Spokane, Washington, which was the closest concert venue from where I grew up and I went to see James Brown live.
First time you brought your mom to one of your shows?
Panorama festival in New York. It was really cool. She came and we had VIP passes. It was so funny because of course she was excited to see me. But, she was a little bit more excited to see Frank Ocean play later that night. But, it was so fun having her at the show. She was like on the dance floor grooving with everyone. Everyone came up to me and asked me "is that your mom?" And yeah, she had a fantastic time.
The artist who inspired you to become a musician?
Oh my gosh there are so many artists. Number 1 always number 1 Prince.
Go-to places for new music?
Record stores. Honestly when I'm traveling I like to just go to different record stores and dig for new music. It's about keeping an open mind and open heart when looking for new music. So yeah, just local record stores anywhere in the world.
Guilty pleasure record?
Ooh I don't know. I don't think I have a guilty pleasure record. Cause I think all music I like is worthwhile. Maybe some Mariah Carey? That's a bit of a guilty pleasure, right?
Desert Island dance record?
That's really difficult. I would have to say probably Masters at Work Volume 1 from Defected Records. That's a pretty good dance album. Good compilation.
Dream B2B partner?
Oh gosh, well this isn't really a dream back to back partner because I've done this already but honestly I love to play back to back with some of my favorites like with my friends really. Because they know me, I know them. We have similar music tastes and it's all about vibing on that same wavelength, right? So honestly I would just say my friend Ruby Savage.
Favorite BPM?
I don't really have a favorite BPM. If I had to pick I guess like 120 because you can still play disco music and house music. It's not too fast to play disco music on that BPM.
Piece of gear you always need on the road?
Records, USB, my phone so I can listen to music at all times. Pick whichever one you want.
All-time-favorite festival?
Oh gosh, my all-time favorite festival - one that I've played or one that I just went to enjoy? Cause just enjoying the festival I would say Coachella. I used to go to Coachella every year back in like 2010 maybe. It was the first year I went. Just did it for a few years, obviously. Don't go to it now but yeah that was really special.
My favorite festival that I've played at - this is probably just because it's recent memory - but I've played at Nuits Sonores and that was amazing. It was main stage, over 7,000 people and everyone was with me for that set. We were all vibing on the same wavelength. Me and all 7,000 people it was at peak to say the least.
Biggest misconception about dance music?
I think a lot of people think dance music is not accessible for everyone. Which is true to a certain extent but I think people have to remember that dance music and house music in particular was initially made for people to express themselves and feel that they are safe in that way of expressing themselves. That is the basis of house music. That's how it started. I think that's something people forget about a lot. House music is supposed to be inclusive. It's about bringing people together.
How often do you get out and have fun, and where do you go?
The answer is no, I don't go out to have fun very often anymore. I'm a bit of a workaholic, I guess. If I had to, honestly being around my family and friends is the best way. Just spending time with loved ones. And that's the most important thing in terms of having fun and going out and stuff. If I have to go out though, I have to be able to dance. That's my main thing. Must dance, whole time. I don't really have a favorite place, really. It's all kind of impromptu, I guess.
City with the most underrated dance scene?
Geneva. I have the best time when I play there. They have an amazing dance scene. People are just in it and give it their all.
Industry predictions for the next year?
Oh gosh, I have no idea. I live under a rock. So no answer.
Best piece of advice for new producers?
Be yourself. That is the best advice I can give. So many people I talk to say that they feel they have to conform or mold into some idea of what every music producer or DJ that they feel they have to be. But, the key is that no one is you. All you can do is be you. In order to do that all you need to do is really hone in on what you like, what you personally can bring to the table, and just do that.
Dead or alive, who would be your dream collaborator?
Prince.
What is one of the unique experiences you've had backstage?
I think it's more just when the fans come backstage, especially when I have these young girls of color that I represent something for them when I'm up onstage and they're able to come backstage and express their story and their appreciation. Because that's what it's all about. We are trying to lift people up in the best way possible, right?
A unique travel experience you've had?
I think one of the most unique was going to South Africa. I went there to visit a friend. But, I also played a show in Cape Town. And it was just such an amazing experience to play in Cape Town. Because it's exactly what I said from the question before is that so many girls who are of different backgrounds, who are mixed, who identify with me visually. They came up to me and told me how they don't see themselves represented in the DJ world. And how much it means to them to see someone like me with my skin color and my hair and all that to be doing my thing. And expressing myself in wholeheartedness. It makes them feel seen, it makes them feel heard, it gives them strength. Which is beautiful.
What is your favorite throwback track?
Anything by Prince, really. My favorite is "I Want to be Your Lover." Or "Uptown."
What's one track that fans always lose their mind to?
I would probably say Loleatta Halloway's "Love Sensation".
What was the first album you ever bought?
Oh gosh, like from the very beginning when I was a child? It's probably Spice Girls.
Name one remix that is better than the original?
That's a good one. I'd say Moodymann's remix of "Sometimes You Just Know" by Pollyn.
What song would you want (god forbid) play at your funeral?
Anything by Prince. "I Would Die 4 U" Sorry, obviously making myself laugh.
What's the perfect sunset track?
Oh gosh, I don't know there are so many. I actually really like to play my own track called "Rishikesh". It's got a really nice vibey warm feeling that's perfect for sunset.
What song do you listen to cheer yourself up?
Oh gosh, anything disco-related, really. Like old school R&B disco vibes like The Jones Girls or anything like that or Al Green. Oh that puts me in a good mood always.
Follow Jayda G
Facebook: facebook.com/jaydagmusic
Instagram: @jaydagmusic
SoundCloud: soundcloud.com/jaydagmusic