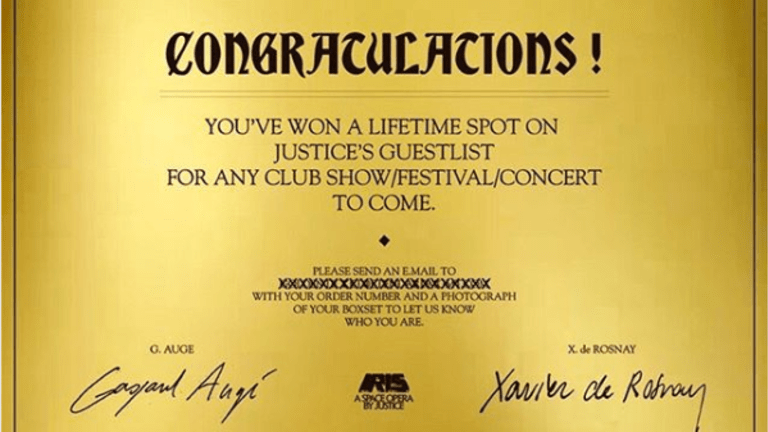 Justice Are Giving Away Free Guestlist for Life via "Golden Tickets"
Guaranteed to make you get up out of bed.
French dance music titans Justice have been hard at work on their new concert film, IRIS: A Space Opera. After screening the film at select cinemas across the United States, the duo released an "Ultimate Pack" that includes items like a flashy members only jacket, a vinyl felt mat, and more. 
For a cool €299,00, that package could be yours - but you may just win a whole lot more along with it. 
Select serial numbers of the very limited IRIS Ultimate Pack (specifically numbers #001, #333, #666, and #999) include a "Golden Ticket." Winners won't be seeing Willy Wonka or drowning in a chocolate river with this treat, however. Instead, the lucky recipients of these Golden Tickets will be guestlisted for any forthcoming Justice show, at any venue, on any date, for life. Sweet deal, right? 
All winners must contact a specific email address that's listed on each Golden Ticket with a picture of their lucky box set, and voila, those fortunate winners are taken care of at any Justice event for life. That's enough to make any Oompa Loompa sing and D.A.N.C.E.
Only 1,000 Ultimate Packs were made, and the Justice shop is down to its last few pre-orders. If you're feeling lucky, you can get your Ultimate Pack here. Bon chance.
FOLLOW JUSTICE:
Facebook: facebook.com/etjusticepourtous
Instagram: instagram.com/etjusticepourtous
SoundCloud: soundcloud.com/justice-official