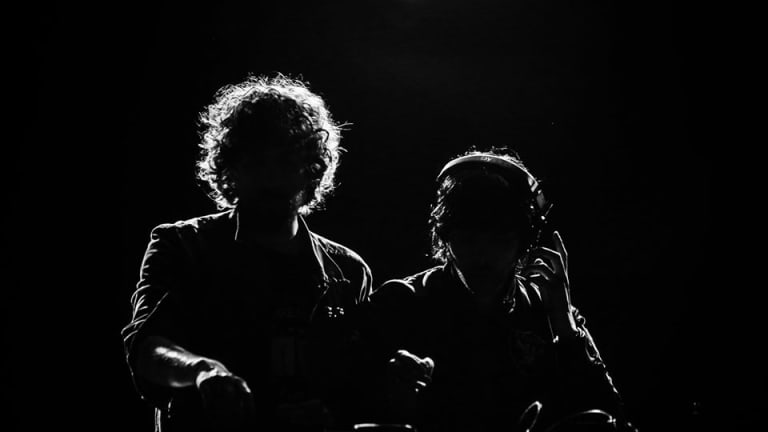 Justice to Screen New Feature Film, IRIS: A Space Opera, Across The U.S.
The unique concert film will be shown in New York, L.A., Dallas, Denver, and other cities.
Iconic French electro duo Justice are coming off of a landmark year after releasing their Grammy-winning album Woman Worldwide in 2018. The album won Best Dance/Electronic Album of 2018, and the duo (comprised of Gaspard Augé and Xavier de Rosnay) took it around the globe on the Woman Worldwide Tour. Now, footage inspired by the tour but compiled specifically for cinema has been made into an immersive feature film called IRIS: A Space Opera. 
IRIS documents the performances from 2018's Woman Worldwide Tour in a unique and immersive way, using an adaptation of Augé and de Rosnay's live show experience that was created specifically for film. The performance in IRIS was filmed in isolation without an audience, but reflects some of those live performances from the tour. Taking a trippy, sci-fi-inspired approach, the film is a one-of-a-kind experience not to be missed by fans of the duo.
Augé and de Rosnay have been going strong for over ten years with an impressive discography and unforgettable live performances. IRIS acts as a tribute to their success, and a celebration of their creativity, music, and fans. 
The film will be shown across the United States by CineLife Entertainment on September 10th. Featured cities include New York, Los Angeles, Dallas, Denver, San Diego, and many more. A full list of dates and cities can be found here.
FOLLOW JUSTICE:
Facebook: facebook.com/etjusticepourtous
Instagram: instagram.com/etjusticepourtous
SoundCloud: soundcloud.com/justice-official