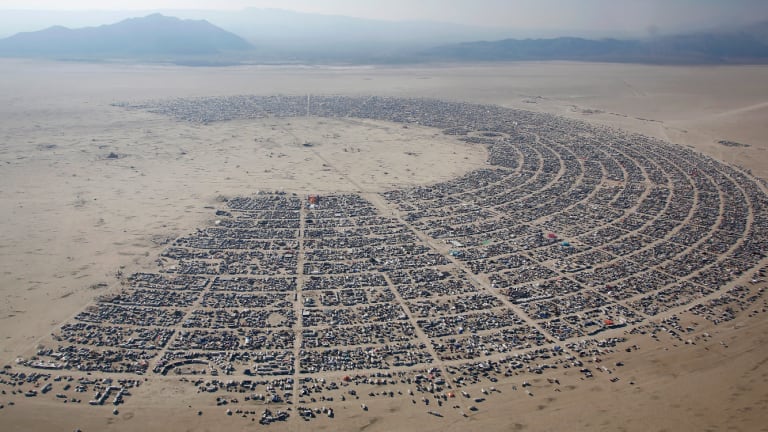 Burning Man Founder Larry Harvey Hospitalized After Suffering Severe Stroke
Our thoughts and prayers are with him and his family.
Life is cruel sometimes. It hits you out of nowhere.
It recently came to light that Burning Man festival founder Larry Harvey has been hospitalized due to a severe stroke. His situation is uncertain as he remains in critical condition, though he is under excellent medical care and surrounded by loved ones.
According to organizers, this year's Burning Man is still a go, as they believe that's what Larry would want.
You can read the Burning Man Journal's full statement below:
This is a difficult announcement to make. Our founder and friend Larry Harvey is currently hospitalized after suffering a massive stroke on Wednesday, April 4. Larry remains in critical condition. While his prognosis is unknown at this time, Larry is receiving excellent round-the-clock medical care and constant companionship from his family and very close friends.

We know this news may be startling and saddening for many of you, as it has been for us. Please send your positive thoughts and intentions to Larry and his family. If you feel moved to share well wishes, notes of gratitude, or your best and craziest Larry Harvey stories, feel free to do so respectfully in the comments below. For those who would to like to send messages directly to Larry and his family or share reflections more privately, please email TheHat@burningman.org.

While this is a challenging time, we are encouraged by our community's ability to come together when it matters most. Some have asked how this may affect our organization and our operations going forward. Rest assured, Burning Man and Black Rock City 2018 will go on. If there's one thing we know for sure, Larry wants us to burn the Man.

We look forward to sharing more information when it becomes available. In the meantime, we ask for patience and support as we navigate the effects this has on all of us.

Thank you for sharing your love with each other, and your love of Burning Man with the world.
A leading force since the very first Burning Man back in 1986, Harvey played an instrumental role in Burning Man's transformation from an 80 people musical gathering in Baker's Beach, San Francisco, to an 8-day multi-million dollar festival in the Nevada desert.
According to the Burning Man website, Harvey scripts and produces the Burning Man event's annual art theme, supervises the design of the iconic Man sculpture and its infrastructure, and is Co-Chair of its Art Department. He is the one behind Burning Man's radical 10 principles, fostering the sense of active participation, giving, and community that makes Burning Man what it is.
Without a doubt, Burning Man's unique and authentic feel, as a festival that challenges social constructs and gives attendees an experience of unparalleled self-expression, wouldn't be the same without Harvey's efforts. 
We wish him a smooth and speedy recovery and his loved ones the strength to get through this trying situation. If you would like to share your well wishes, you can do so in the comments here.