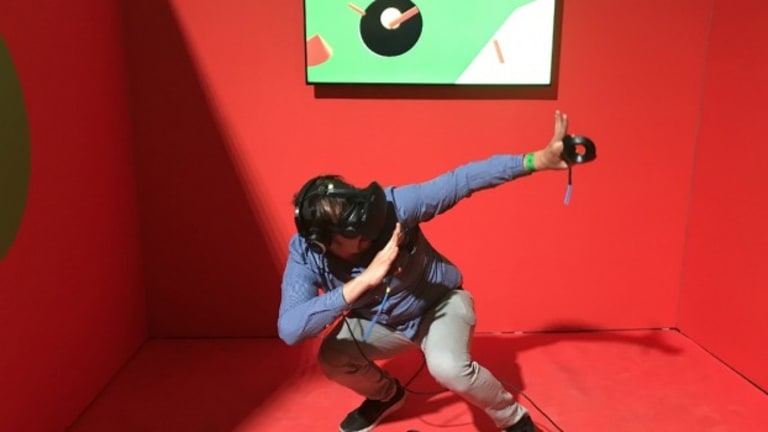 LCD Soundsystem Release Stunning and Interactive "Dance Tonite" VR Experience
All set for the release of their fourth studio album American Dream on September 1, LCD Soundsystem introduce a new and innovative Virtual Reality experience with Dance Tonite.
Since LCD Soundsystem reunited in 2016, less than five years after a very grand, very public breakup tour in 2011 at Madison Square Garden people have been ga-ga over the indie-dance legends. With the promise of a new album forthcoming 'soon', the anticipation around the now announced American Dream has been real! Due for release in no time now, the fourth studio album is all set for September 1st!
Early June saw fans intrigued by the possibility of what we now know as "Dance Tonite", a VR video experience to accompany the single "Tonite" off the album. And now the New York band has just launched its first VR experience to coincide with the album's release.
The video experience, titled "Dance Tonite," shows a virtually simulated dance party as fans dance along. The website has multiple views from various vantage points depending on the device from which it is viewed and its compatibility. LCD Soundsystem teamed up with the Amsterdam-based design studios Puckey and Moniker as well as with Google's data arts team for the development of this project. For the development of the experience, fans of the band were recorded dancing to the song and their movements were translated into virtual reality and represented as cylinders, cones and various shapes. This resulted in a virtual dance party that spans multiple rooms.
"Dance Tonite," as the VR experience for "Tonite" is dubbed, is produced with WebVR, a technology used to develop VR experiences for the web. Taking its form as a website where anyone who visits with a capable device — computer, phone or VR headset — can switch to VR mode where the experience can be enjoyed as either a spectator or participant respectively. One of the many views offered is an overhead view that scans the rooms and allows one to click on an individual dancer to get their perspective. This if for the viewers mode. However, for those with access to VR headsets, one can view the performances as if you're present in the room with the dancers.
And taking it another step further, if one happens to have a room-scale VR kit such as the Oculus Rift or HTC VIVE, one has the option to add their own choreography and to literally join the party. With the use of such VR kits, the viewer becomes the performer and similarly from a non VR device, the viewer is part of the audience getting a bird's eye view perspective of others interacting and performing.
Explaining how the process played out for them, the band's frontman James Murphy said,
"I really enjoyed it, I didn't expect to enjoy it. I thought it wasn't for me, but it was for me. It's really neat."
He also compares the process to going to a beach, not knowing you really wanted to but once you're there you figure out how great it feels and is!
"We wanted to see if we could treat a VR device as a tool for self-expression and 'Dance Tonite' fits perfectly within a series of participative interactive music videos which we've directed over the years," said project creator Jonathan Puckey. "Taking a piece of music like LCD Soundsystem's 'Tonite' as a starting point can act as the perfect scaffold to create something within."
Well, we'd have to agree to the fact that it IS a pretty cool starting point! The band also released a traditional music video for "Tonite" earlier this month
If you happen to be one of those VR buffs, hop onto the website here and get creative "tonite" or tomorrow!?