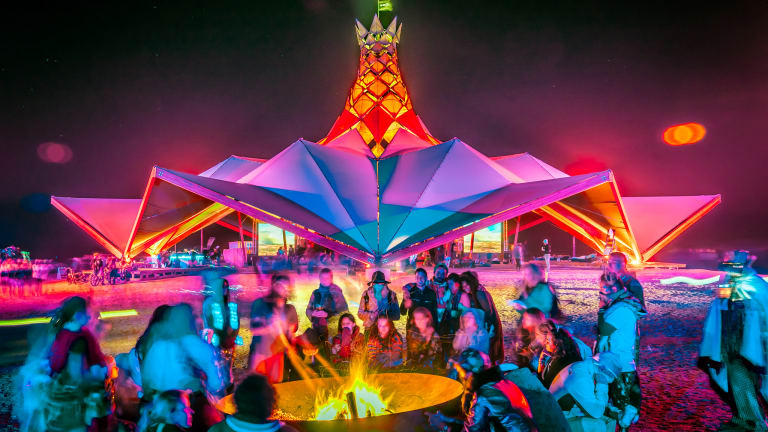 Lightning in a Bottle Bids Adieu to Bradley, California
San Antonio Recreation Area will no longer be home to the Flemming brothers' birthday party-turned festival.
Today, L.A.-based Coachella stage craftsmen and festival producers Do LaB announced the paragon of woke festival culture, Lightning in a Bottle (LIB), is moving again. With plans to remain in Central California while adjusting both their location in Bradley and the conveniently calendared Memorial Day Weekend, the departure marks the fifth time the Flemming brothers' birthday party-turned festival has relocated to a new venue.   
Following the tragic 2017 attendee death and subsequent lawsuit, another attendee death by 'freak accident' in 2018, and an announcement only weeks ago that they would reduce the size of the event by 25%, LIB's future might have seemed unclear to the casual observer. According to the announcement that went out today, however, it was ultimately the closure of the Monterey County Parks Department and a series of demands presented by new leadership at the absorbing Resource Management Agency that made staying in Bradley impossible. 
For those familiar with the visceral culture or the fervor with which West Coasters embrace Do LaB, it should come as no surprise that LIB is evolving. The manner in which it will return at the still unannounced new location is expected to impact the festival season in 2019 and in years to come. 
"If this news comes as a shock, we apologize," The LIB Marketing Team wrote in the announcement. "Venue challenges are an inevitable part of throwing festivals, and the best we can do is move through them as gracefully as possible."
Early bird tickets will be announced in the coming two to three weeks and the festival lineup is slated to drop in February. Leaders at Do LaB were unavailable for comment but further details will be announced via the Do LaB website, Facebook page and the LIB newsletter. Naturally, EDM.com will be there to keep step with the beats as updates become available. 
New dates for Lightning in a Bottle 2019 are set for May 8th to May 13th. 
Follow Do LaB:
Facebook: facebook.com/TheDoLaB/
Twitter: twitter.com/thedolab
Instagram: instagram.com/thedolab
Soundcloud: soundcloud.com/thedolab
Lightning in a Bottle Arts and Music Festival
Facebook: facebook.com/LIBfestival
Twitter: twitter.com/LIBfestival
Instagram: instagram.com/libfestival
Featured Image by Eric Allen