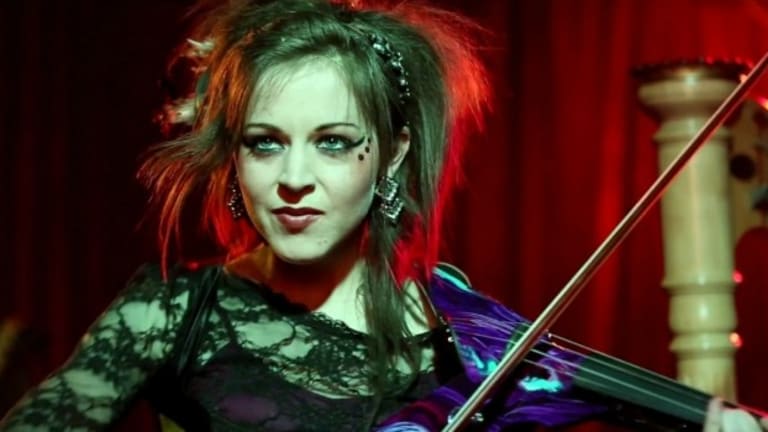 Lindsey Stirling Addresses Lack of Feminine Energy in the World of EDM
Award-winning violinist Lindsey Sterling takes to the red carpet at the BBMA's to address the pressing issue of the lack of women in EDM and more!
Who would have ever imagined that the dancing 'hip-hop violinist' who was brutally dismissed from the quarter finals 2010's America's Got Talent would go onto be a YouTube sensation, two time Billboard Music Award winner AND be featured as one of Forbes 30 under 30 - Class of 2015! That's pretty much the best way to sum up the story of Lindsey Stirling!
In a unique combination, Stirling combines her love and prowess for classical music with EDM, hip-hop and dubstep. All while she also adds on another unique element, dance! She refers to herself as the 'dancing violinist' and rightfully so. She shot to fame with the stunning tune and picturesque video of "Crystallize" which was one of the initial videos she uploaded on her YouTube channel and currently has raked over 150 million views! From there on she produced a series of videos featuring her in beautiful and breathtaking outdoor settings or with striking visual accompaniment; married perfectly with her melodious and catchy violin tunes. Just incase you were wondering, her Youtube following sits currently at a hefty 9.4M plus!
2012 saw this badass violinist release her first self-titled album of all original music, followed by Shatter Me in 2014 and her third studio album, Brave Enough which came last year in 2016. The Billboard Music Awards, which Stirling herself claims as also having been the first major platform to validate and recognize her work, has always been a close part of her career. With multiple nominations from one for her very first studio album in 2014, we've seen Stirling lay her claim on the Top Electronic / Dance Album title for 2 years in 2015 and 2017 at the BBMA's!
In a brief conversation on the red carpet at the 2017 Billboard Music Awards, Stirling expressed her excitement to AP News saying,
"It is really cool to be up there with Kygo and [The] Chainsmokers and Calvin Harris because I respect those guys so much."
But on the flip-side she also expressed how year on year, she's now pretty sick of being the only female to be recognized in the genre, saying "I think every time I've been nominated, I've been the only girl," and well, we can't blame her for being disappointed about this.
During the short interview, Stirling went on express how women in the industry need to support each other and help solve this issue together, growing together as a means to increase and strengthen the power of women in EDM. Stirling practices what she preaches, on her award-winning studio album, Brave Enough, Stirling sought after female singers to boost their presence in the genre.
Finishing up her quick interview extremely aptly, she says
"It's not just me, myself and I's job. It's the the job of us to lift the women around us… We need a little more feminine energy in EDM."
Also check out Stirling in conversation with Billboard, discussing her Brave Enough Documentary and the song of the summer according to her right here!
H/T: Your EDM