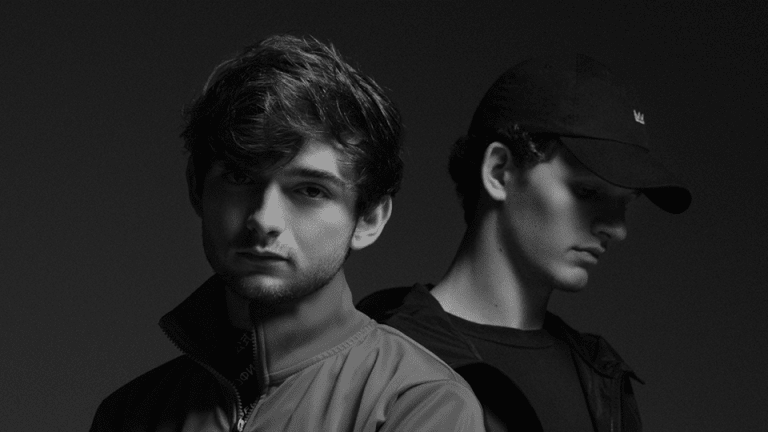 Catch Louis The Child On This Week's Beats 1 One Mix
Purveyors of happy feel-good music.
No stopping Chicago wunderkinds Louis The Child.
The duo, comprised of Robert Hauldren and Frederic Kennett, was catapulted into the spotlight back in 2015 with their hit single "It's Strange." The buzzworthy song made airwaves with recognition from Taylor Swift, Lorde and, later, a spot on popular soccer video game FIFA 16's official soundtrack.
With Hauldren just entering college and Kennett wrapping up high school, the duo juggled a lot at the time. Inevitably, they took on music full time, touring the world, selling out venues and playing festivals like Coachella, Electric Daisy Carnival, Ultra Music Festival.
Of course, beyond thrilling DJ sets, production is a strong suit for the duo. Playfully merging pop and future bass, Louis The Child takes influences from artists like Odesza, Flume, Porter Robinson and Madeon, yet manage to stay unique to their sound. Their style is light, bouncy and bubbly, even whimsical. Music that feels colorful, carefree and hearty.
Apart from the hit original "It's Strange," tracks like "Weekend," "Fire," and the OWSLA released "From Here" attest to their distinct sound. Remixes of songs like Oh Wonder's "Body Gold," Ty Dolla Sign's "Blasé" and Chance The Rapper's "All Night" are notable too.
This weekend, Louis The Child has a special mix incoming as part of Beats 1's weekly radio show, One Mix. Expect tunes from Odesza, Disclosure and Petit Biscuit, along with a slew of Louis The Child productions, including collaborations with Jacob Banks, Khalid, and more.
Air dates:
Friday 4th May 2018 - 23:00 LA / 02:00 NY / 07:00 UK
Sunday 5th May 2018 - 06:00 LA / 09:00 NY / 14:00 UK
If you're not familiar with Louis The Child, this is the perfect time to get acquainted. And for fans, a brand new mix to kick off the weekend.
Apart from the mix, Louis The Child took some time out to answer a few questions about their musical tastes and experiences. Fun insights like the perfect sunset track, unique backstage experience, dream collaborator and guilty pleasure record. Read on to see what they had to say.
First show experience?
Played to a crowd of probably 15 people in the basement of our local community house.
First time you brought your mom to one of your shows?
Probably when we played Spring Awakening for the first time.
The artist who inspired you to become a musician?
Red Hot Chili Peppers
Go-to places for new music?
Soundcloud stream, Spotify playlists, Friends, Festivals
Guilty pleasure record?
Sorry - Justin Bieber
Desert-island dance record?
Animals (Mark Ronson Remix) - Miike Snow
Dream B2B partner?
Obama
Piece of gear you always need on the road?
Laptop and headphones
Biggest misconception about dance music?
You press one button and a song is made. Everything sounds the same
How often do you get out and have fun, and where do you go?
We try to go out and explore cities we're in while on tour. When we're home we like to chill and take it easy and work on music. We like catching shows in LA.
City with the most underrated dance scene?
Chicago
Industry prediction for the next year?
More use of drones at festivals
Best piece of advice for new producers?
Work work work. Make any genre.
Dead or alive, who would be your dream collaborator?
Kendrick and Bon Iver
What is one of the unique experiences you've had backstage?
We were backstage at a Kanye show at the Forum and were surrounded by a bunch of celebrities that we were too afraid to talk to.
What's your favorite throwback track?
Can I Kick it? - A Tribe Called Quest
What's one track that fans always lose their mind to?
Our remix of Blasé
What was the first album you ever bought?
1 - The Beatles
Name one remix that you think is better than the original
Cinema (Skrillex Remix)
What song would you want (god forbid) played at your funeral?
Tubthumping by Chumbawamba
What's the perfect sunset track?
Lil Thing by Knox Fortune, Marijuana by Chrome Sparks, Sun Models by Odesza
What song do you listen to cheer yourself up?
Polish Girl by Neon Indian