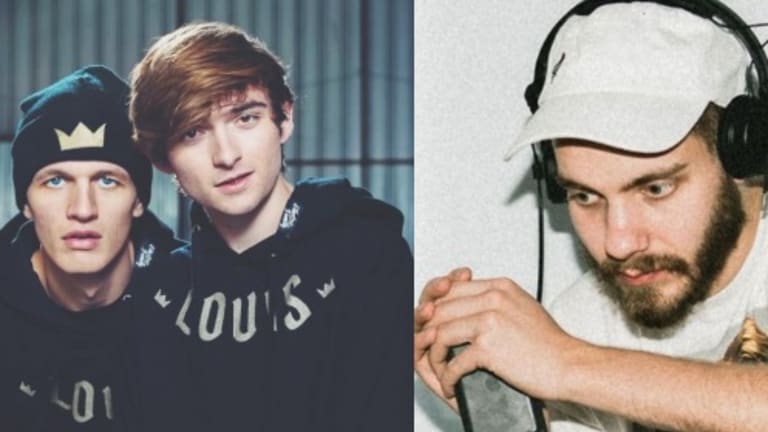 Louis The Child & San Holo Tease Potential Collab
It's official, they are in the studio together.
Are you a fan of Louis the Child and San Holo? If you answered yes, you may need to sit down. The producers took to Instagram to share that they are in the studio together, aka we may have a collaboration on the way. After witnessing the playful dynamic between the producers, we can tell some magic is about to come out of this. 
Louis The Child (real names Robby Hauldren and Freddy Kennett) and San Holo (real name Sander van Dijck) are producers who have risen through the ranks around the same time. With van Dijck's knack for delivering smooth, catchy, and slightly melancholic singles paired with the duo's bouncy, fun-loving productions, we are in for a treat. Their styles fall into a specific section of the EDM Venn diagram. That special set of similarities and differences are bound to make an ultimate smash. 
Hauldren and Kennet, hailing from Chicago, are currently gearing for the fall leg of their Here for Now Tour traveling across the East Coast, Midwest, and Canada. van Dijk, the Netherlands' shining star, is currently on his final album1 tour. 
No word yet the name or release date for this collaboration so make sure to check back in to get the latest news. 
FOLLOW LOUIS THE CHILD:
Facebook: facebook.com/LouisTheChild
Instagram: instagram.com/louisthechild/
Twitter: twitter.com/LouisTheChild
FOLLOW SAN HOLO:
Facebook: facebook.com/sanholobeats
Twitter: twitter.com/sanholobeats
Instagram: instagram.com/sanholobeats/
Soundcloud: soundcloud.com/sanholobeats