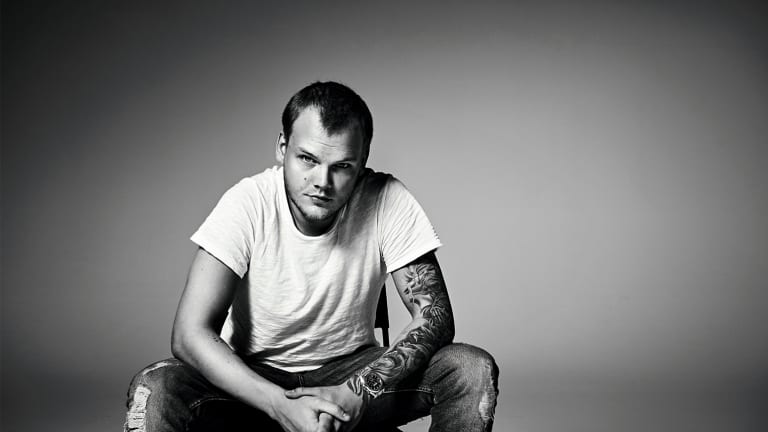 Lyrics of Unreleased Avicii Songs Highlight His Inner Turmoil Prior to Passing
Song lyrics written by Avicii tell of his anguish in the months leading up to his death.
Avicii's posthumous legacy has warmed the hearts of EDM fans across the globe, but it's equally capable of casting a shadow over his final days. Lyrics of songs he allegedly had yet to release have found their way to the public by way of Variety, painting a bleak picture of the Swedish superstar DJ/producer's frame of mind before his death.
While verses like "We'll crack before we shatter / We can't fall apart / We don't get to die young" inspire hope, different ones portray darker themes. Other lines of the song read, "Starting to choke on / Your heart in your throat and / It feels just like / You can't remember how to fight."
According to sources, Geffen Records has helped Avicii's surviving family members catalogue over 100 demos he left behind in various stages of completion. Neither would verify the authenticity of the lyrics, nor do they appear eager to release more of his music to the public.
Find the lyrics purportedly written by Avicii in the months leading up to his death below:
Crossbows and arrows
The smoke in the shadows
You'll lose your mind
Standing on the battle line
Starting to choke on
Your heart in your throat and
It feels just like
You can't remember how to fight
We'll crack before we shatter
We can't fall apart
We don't get to die young
Trouble keeping our head sometimes
We just have to push on
We don't get to give up this life
All the breath in your lungs
Is stronger than the tears in your eyes
It's do or die
But we're alive
And while we're here
Will hold the line
Don't hold your hands up
It's your final stand
Put your white flag down
Oh don't you surrender now
No hero's story
There's no blaze of glory
But dawn only comes
At the end of the night
We'll crack before we shatter
We can't fall apart
We don't get to die young
Trouble keeping our head sometimes
We just have to push on
We don't get to give up this life
All the breath in your lungs
Is stronger than the tears in your eyes
It's do or die
But we're alive
And while we're here
Will hold the line
H/T: Your EDM
FOLLOW AVICII:
Faceboook: https://www.facebook.com/avicii/
Twitter: https://twitter.com/Avicii
Instagram: https://www.instagram.com/avicii/
SoundCloud: https://soundcloud.com/aviciiofficial