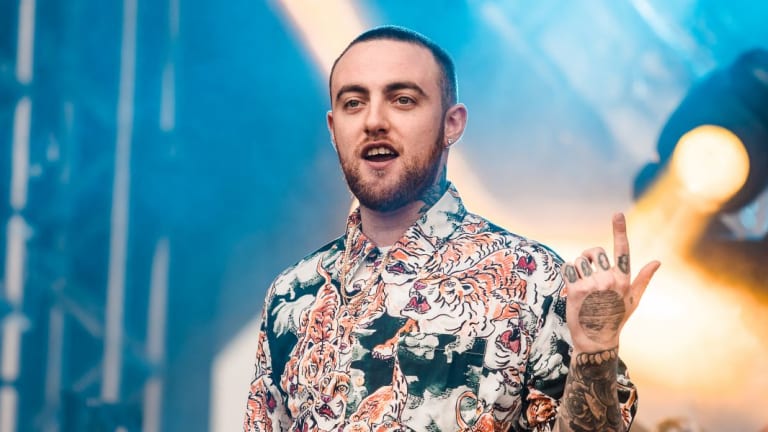 Here's How You Can Live Stream Mac Miller's Tribute Concert Tonight
Even those unable to attend will be able to tune into Mac Miller: A Celebration Of Life.
This week, Mac Miller's family announced they will be live streaming his benefit concert tonight. Coinciding with Halloween, Mac Miller: A Celebration of Life will take place at the Greek Theatre in Los Angeles, California, and feature Travis Scott, SZA, Chance The Rapper and more. Live Nation will host the event in participation with the late rapper's family and live stream it over several online platforms. 
The event will celebrate the life of Mac Miller (whose real name was Malcolm James McCormick) with unforgettable performances by his friends and colleagues. The lineup also includes John Mayer, Earl Sweatshirt, Action Bronson, Anderson.Paak, Miguel, Schoolboy Q, Thundercat, Vince Staples and more. Proceeds from the concert will go to support youth arts and community building programs in honor of McCormick. 
McCormick passed away on September 7th from an apparent drug overdose. He was found unconscious in his home in Los Angeles, California. He was only 26 years old. 
Mac Miller: A Celebration of Life will also serve as the launch of the The Mac Miller Circles Fund, an initiative with the goal of providing "programming, resources and opportunities to youth from underserved communities, helping them recognize their full potential though exploration in the arts and community building." On the topic of McCormick's passing, his mother, Karen Meyers has said:
"The support we've experienced is evident in this amazing line-up and is a testament to Malcolm's incredible life. His father, brother and I are beyond thankful to everyone who is working to make this concert happen along with every fan and every friend for continuing to support Malcolm and his vision. He was a caring, loving human with a smile that could light up the sky and a soul that was out to make the world a kinder place and the MMCF will continue to do just that."
Mac Miller: A Celebration of Life will be live streamed by Live Nation via Facebook, LiveXLive, TIDAL, Twitter, WAV, and YouTube. The tribute will begin at 6:30 pm PST and 6:30 pm EST today, Wednesday, October 31st. Purchase tickets or learn more about the event here.
H/T: Dancing Astronaut
Follow Mac Miller:
Facebook: https://www.facebook.com/macmillerfans/
Twitter: https://twitter.com/MacMiller
Instagram: https://www.instagram.com/macmiller/
SoundCloud: https://soundcloud.com/larryfisherman