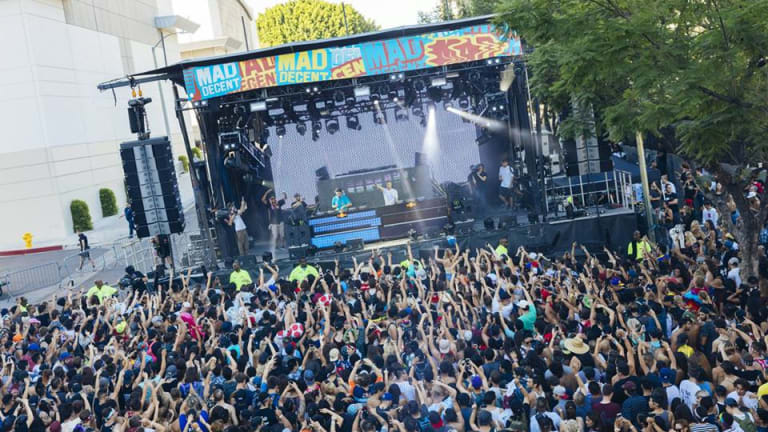 Is Mad Decent Block Party Making Its Triumphant Return?
The police chief said it was too big to handle; will Diplo return with a revised application?
According to reports coming out of Brockton, Massachusetts, a reworking of Mad Decent Block Party is underway. The fan favorite festival, created by legendary DJ/producer Diplo, has been around since 2008. In its early years, the show was set to travel across the country and eventually hit international cities. At one point, Mad Decent was stopping at 14 cities nationwide. However, in 2018, they took the party down to one stop only. 
The superstar is planning to revive his brainchild in a way only Diplo could. By teaming up with SGE Entertainment (Lost Lands/Moonrise Festival), he will launch The Super Mega Ultra Giant Mad Decent Block Party Festival.
If approved, the festival is to take place on July 20th-21st at the Brockton Fairgrounds in Massachusetts, with performances beginning around noon and wrapping up by 11:00 PM on both dates. The producer is setting out to create the largest festival the city has ever seen. Rumored artists set to headline are Major Lazer and Billie Eilish.
This large of a venture isn't coming without some hiccups. The initial application rose safety concerns with 37,000 people expected. Now the city wants it to be scaled back. Commissioner Jeffrey Charnel said the proposed road closures surrounding the fairgrounds could negatively affect local businesses, and Commissioner Paul Merian said the event's scale is unprecedented in the city.
"It scares the s--- out of me," he said, before telling the festival producer's team, "The infrastructure you're setting up sounds great, but it's an experiment. The city has never seen something this big before."
Though the initial application has been denied, it is reported Diplo and his team will consider re-applying with a revised proposal. The story is still developing. Check back in for more news in future weeks. 
H/T: EDMTunes