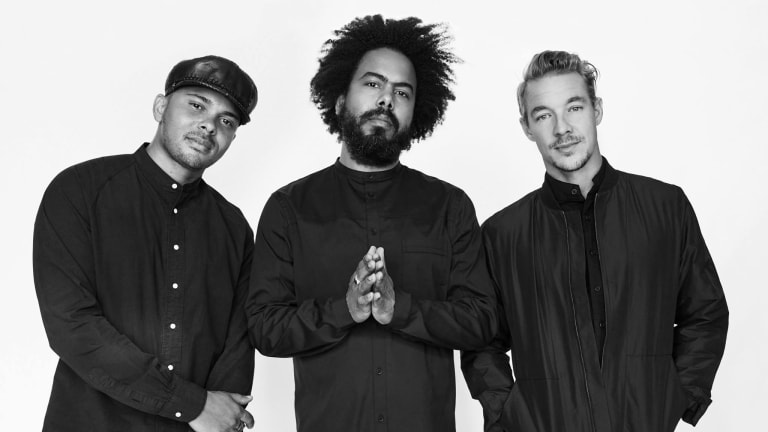 Major Lazer to Possibly Release One Last Album
Diplo has announced the possibility of one last album for Major Lazer before calling it quits.
"Peace is the Mission." That tagline has forever been embedded inside individuals heads thanks to electronic dance music trio Major Lazer, which includes record producer Diplo, and DJs Jillionaire and Walshy Fire. Since releasing three albums back in 2009, Major Lazer has gone on to sell out festivals, won Best Collaboration of the Year at the Billboard Music Awards in 2016, and even played a historical Cuba concert. In a recent interview with Complex, Diplo talks about how the end of Major Lazer is nearing. 
Major Lazer's most recent work is their Afrobeats mix, which was released at the beginning of the month. This was a mix where Diplo brought together seriously talented "African artists like Burna Boy, Mr. Eazi (who is featured alongside RAYE and Jake Gosling on their new single, ("Tied Up"), and Babes Wodumo to the forefront, highlighting their skills atop the club-ready Major Lazer sound" (Complex, 2018).
Currently, the trio is during a tour dedicated explicitly to the continent of Africa.
In the interview Diplo states the following:
"Music is so fast nowadays. It's like we're in a hip-hop cycle all the time; a new rapper comes out and careers last like two years these days. Everything is so rushed, so we're just so lucky we can get things out on the radio these days. I think this project has enough energy around it that we're able to keep being relevant, that's the essence of being great DJs. We all love music ,so we don't have to get stuck in a certain style." Those styles will be on display on a special Major Lazer release commemorating the last decade of their music that will feature "a bunch of stuff you haven' t heard like that we made the last ten years. Next year marks our last album, so we got a lot of stuff in between now and then."
Reading in between the lines, Diplo clearly says that "next year marks our last album" (Complex, 2018).
"I think so, because I got [these] other side projects, like LSD with Sia and Silk City."
Diplo is known to carry on several side projects at a time. It is no secret he is a man of many talents and dedicates a lot of time and passion to his music and projects. It was only a matter of time until Major Lazer sadly departed. Their mission will live on forever just like their music, and the anticipation for their last album has already begun to build.  
Connect with Major Lazer:
Facebook | Twitter | Instagram | Website | Soundcloud | Spotify