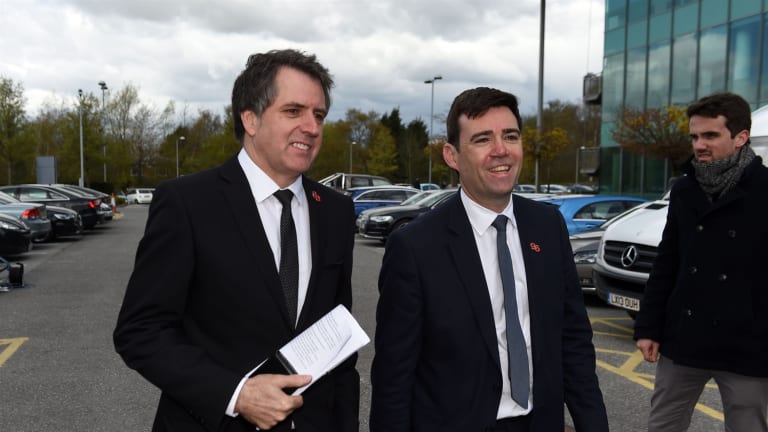 The Mayors of Manchester and Liverpool are Going Head-to-Head in a DJ Battle for Charity
What does "it's lit" translate to in Mancunian? Or "it's a vibe" in Scouse?
No, you did not just read the synopsis of the newest Black Mirror episode. The Mayor of Greater Manchester and Metro Mayor of the Liverpool City Region, Andy Burnham and Steve Rotheram, respectively, are facing off in a forthcoming DJ battle for COVID-19 relief.
On June 13th, 2020, the mayors will go head-to-head to decide, once and for all, whose city has produced the best music. Burnham and Rotheram will each spin a one-hour set featuring classic cuts from the Merseybeat and Madchester eras, which blend rock music with a bevy of other genres, like acid house and pop.
Ahead of the friendly DJ battle, Burnham and Rotheram have engaged in some convivial and hilarious trash talk. According to BBC News, Rotheram bragged that Liverpool was the home of The Beatles and said his set would distinguish the city as the "centre of the known musical universe." Burnham returned the serve with a retort of his own, saying, "Let's face it, if we had excluded music from the 1960s there would be no contest."
"Competition aside, music unites both city regions and the show promises to be an amazing celebration," Burnham continued. "We hope it will bring people together at a difficult time and raise funds for important causes at both ends of the M62."
Music lovers will be able to watch and donate live via UK streaming platform United We Stream, and all proceeds from the DJ battle will be directed to organizations and community groups that were hit hard by the effects of the pandemic. The winner will be chosen by the number of votes received, which viewers can cast by writing their pick in a comment while making a donation.