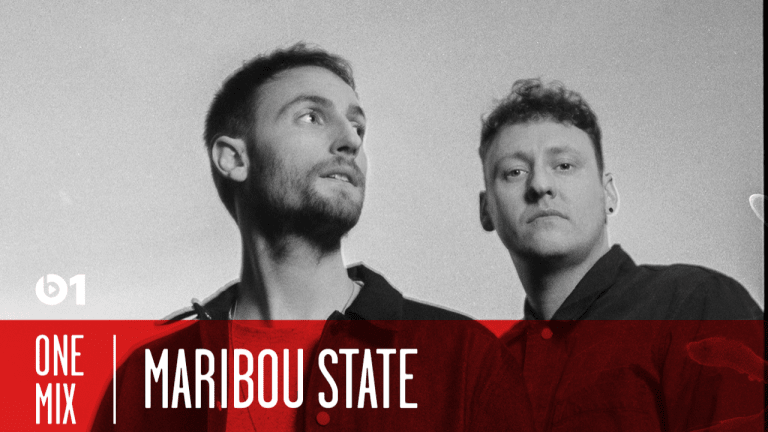 Maribou State Drop Sophomore Album & Celebrate With Set On Beats 1 One Mix This Friday
The British duo's follow up to "Portraits" is almost here.
Maribou State is one of the few acts that draws a fine, unique balance between electronic music and live instrumentation. The UK duo, comprised of Chris Davids and Liam Ivory, craft warm, evocative feel-good songs akin to the likes of Odesza and Illenium, but with less punch and more groove.
With well-received EPs, creative remixes, sensational live shows, a stellar debut album, and radio support from the likes of Zane Lowe, Pete Tong and Annie Mac, Maribou State have been developing a distinct, soulful style for themselves over the years. 
This Friday, they drop their sophomore album "Kingdoms In Colour," and take to Beats 1's weekly radio show, One Mix, to celebrate. The hour long mix, exclusively on Apple Music, will be packed with tracks from the album and music from artists like Fourtet, DJ Koze and Unknown Mortal Orchestra.
Air Date: Friday 7th September 2018 - 21:00 LA / 00:00 NY / 05:00 UK
Tune in here.
Maribou State also dove into their musical tastes, thoughts on dance music, and the interesting experiences they've had as artists. Read on for their dream collaborator, go-to places for new music, favourite throwback track, and more.
Your first show experience?
Crowd surfing at a local band night in my hometown.
First time you brought your mom to one of your shows?
At a venue called the Horn in St Albans when we were about 15.
The artist who inspired you to become a musician?
Once upon a time Kurt Cobain made me want to pick up a guitar.
Go-to places for new music?
Bandcamp / Apple Music
Guilty pleasure record?
Whitney Houston – How Will I Know
Desert-island dance record?
Luke Abbott – Modern Driveway
Dream B2B partner?
Moodymann
Favorite BPM?
121.34
Piece of gear you always need on the road?
Eye mask + Ear Plugs
All-time favorite festival?
Glastonbury
Biggest misconception about dance music?
You need to be on drugs to enjoy it.
City with the most underrated dance scene?
Mumbai
Industry prediction for the next year?
More Apple Music
Best piece of advice for new producers?
Keep on keeping on.
Dead or alive, who would be your dream collaborator?
Bon Iver
What is one of the unique experiences you've had backstage?
Meeting a magician in a circus trailer from South America high on DMT whilst wearing a jacket that had been eaten by a crocodile.
A unique travel experience you've had?
Partying with locals after a gig in Albuquerque at a house with a pet Alligator named Carlos, who only eats burritos. Reptiles seem to make a common appearance throughout our career.
What's your favourite throwback track?
The majority of the music I listen to is old but Otis redding – Pian in my heart would be up there.
What's one track that fans always lose their mind to?
Jimi Hendrix – Crosstown Traffic
What was the first album you ever bought?
From memory; System of a Down (98), likely something before but I remember that most vividly.
Name one remix that you think is better than the original?
Mount Kimbie – Maybes (James Blake Remix)
What song would you want (god forbid) played at your funeral?
Daughter – Landfill
What's the perfect sunset track?
Bibio – Lovers Carvings
What song do you listen to cheer yourself up?
Jimmy Cliff – I can see clearly now