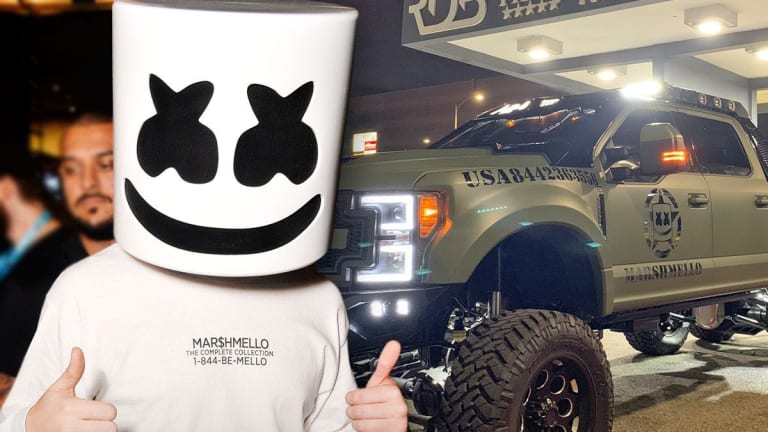 Marshmello Shows Off Custom Ride in New Video
Marshmello has a new truck fit for a superstar DJ.
Marshmello has a souped up new truck that fans will instantly come to recognize on the road and in his videos. The masked DJ entrusted RDB LA to completely redo his Ford Raptor. The finished product is now being called the "Hennessy Velociraptor."
The truck's matte green wrap is complete with custom Marshmello prints and decals, so from the outside there's no mistaking the owner. Inside, Marshmello opted to include a Rolls Royce-style starlight ceiling, which of course incorporates 20 different LEDs. It's an interior with all the flare a main stage producer would want.
Despite the size of this custom behemoth, the inner workings under the hood have the ability to take the Velociraptor from 0-60 mph in just 4.2 seconds.
All the customization didn't come cheap. Marshmello reportedly dropped around $500,000 to make the project a reality. Still, he appears to already be putting it to good use. Most recently the truck can be seen in the opening shot of his music video "Light It Up" with Chris Brown and Tyga.
FOLLOW MARSHMELLO:
Facebook: facebook.com/marshmellomusic
Twitter: twitter.com/marshmellomusic
Instagram: instagram.com/marshmellomusic
SoundCloud: soundcloud.com/marshmellomusic