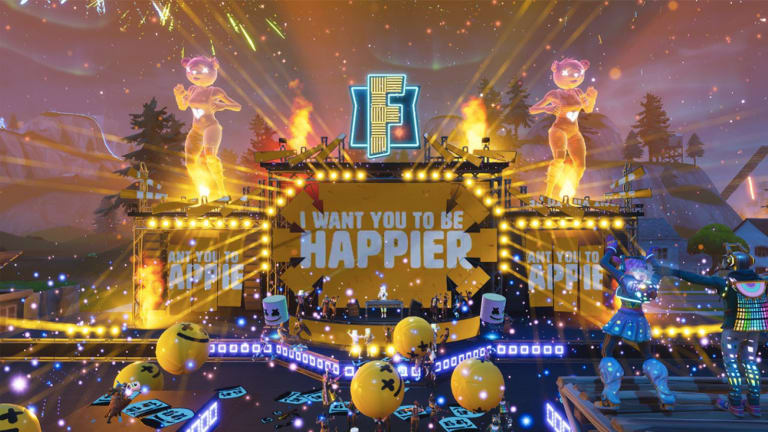 Marshmello's Fortnite Event Broke the Game's Concurrent Player Record
Marshmello's event was the biggest day for Fortnite yet.
The success of Marshmello's virtual concert within Fortnite cannot be overstated. New reports show the masked DJ brought in 10.7 million concurrent players, smashing Fortnite's previous record of 8.3 million set back in November. 
Fortnite's developer Epic Games confirmed it was the biggest day for Fortnite yet. Nearly 11 million players joined the in-game concert at Pleasant Park, but this number does not even include metrics from those who tuned in on Twitch or any other streaming platforms. The event's recap video alone has pulled in over 27 million views at time of writing.  
Even more remarkable was the noticeable surge in Marshmello's digital profile. Many of his social media channels spiked following the event. According to royalty analyst Jose Arroyo, Marshmello's YouTube channel alone netted 700,000 new subscribers a day later, with his overall view count spiking 500%.  
Though it may not have been the first virtual concert of its kind, the sheer visibility of Marshmello's event has undoubtedly set a precedent for future in-game endeavors. In case you missed the event, Marshmello's Extended Fortnite set is still available via iTunes.
H/T: Your EDM
FOLLOW MARSHMELLO:
Facebook: facebook.com/marshmellomusic
Twitter: twitter.com/marshmellomusic
Instagram: instagram.com/marshmellomusic
SoundCloud: soundcloud.com/marshmellomusic