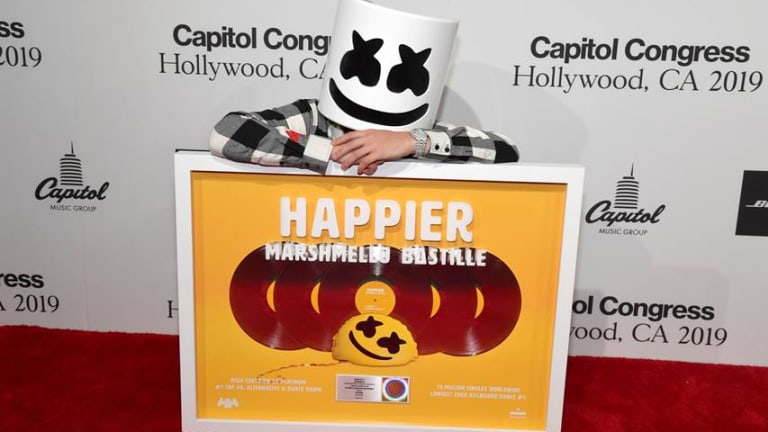 Marshmello Receives Plaque for Selling Over 5 Million Copies of "Happier"
The mega-hit has garnered over 5 million purchases.
In 2018, EDM poster boy Marshmello dropped his hit single "Happier" featuring the immensely popular English group Bastille. The track is well on its way to a billion (yes, billion) streams on Spotify alone, which translates to the equivalent of roughly five million copies. 
At Capitol Music Group's annual Capitol Congress in Los Angeles, 'Mello received a plaque to commemorate the milestone. The large plaque features the "Happier" album artwork, and five stacked vinyl recordings of the track, each representing one million purchases. 
Currently, 150 streams of a song equates to one purchase of the song when tallying up purchase counts. So, 750,000,000 streams alone would get mello to the 5 million copies sold benchmark, but he's already surpassed that by over a hundred million additional streams on Spotify alone, where the current play count is just about to hit 900 million. Actual purchases could also account for a significant part of the 5 million mark as well.
Marshmello's monumental achievement follows the release of his new album Joytime III back in July, and a slew of "Happier" remixes back in 2018 from the likes of SVDDEN DEATH, Frank Walker, Breathe Carolina, and more. 
FOLLOW MARSHMELLO:
Facebook: facebook.com/marshmellomusic
Twitter: twitter.com/marshmellomusic
Instagram: instagram.com/marshmellomusic
SoundCloud: soundcloud.com/marshmellomusic