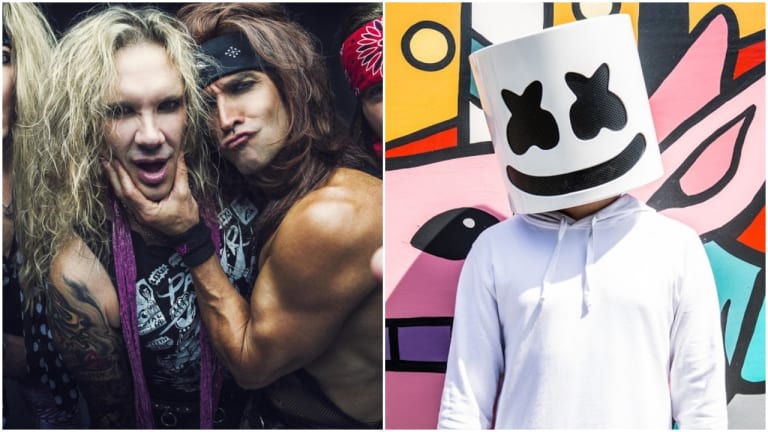 Steel Panther Members React to Marshmello and Bastille's "Happier"
Steel Panther's The World of Music Episode #4 highlights music from EDM's favorite masked producer.
Steel Panther's nostalgic brand of glam metal is a far cry from contemporary EDM, which may explain the novelty of the latest installment of their video series. The Los Angeles quartet hosts a series called The World of Music on their YouTube channel, the fourth episode of which features music by none other than Marshmello.
Steel Panther members Michael Starr and Russell "Satchel" Parrish act out a lighthearted scenario while listening to Marshmello's "Happier" featuring Bastille in the video. Both appear to enjoy the song until the former compares Bastille frontman Dan Smith's vocals to those of the latter, leading him to condemn the song out of apparent jealousy. 
Quirky critique aside, Marshmello's got a big couple of days ahead of him. Later in the day he'll premiere a collaboration with Flux Pavilion and Elohim as Zane Lowe's "World Record" via Beats 1. Tomorrow, the album on which it appears is slated for official release.
Previous editions of Steel Panther's The World of Music have featured songs by '80s rock band Huey Lewis and the News and modern alternative metal band Devilskin.
H/T: Your EDM
FOLLOW MARSHMELLO:
Facebook: facebook.com/marshmellomusic
Twitter: twitter.com/marshmellomusic
Instagram: instagram.com/marshmellomusic
SoundCloud: soundcloud.com/marshmellomusic
Follow Steel Panther:
Facebook: facebook.com/steelpanther
Twitter: twitter.com/Steel_Panther
Instagram: instagram.com/steelpanther